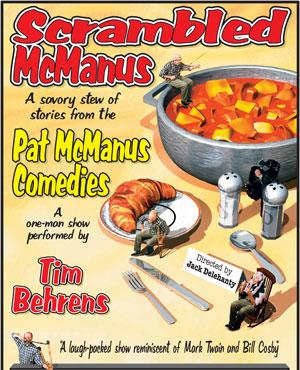 Saturday, March 22, 2014 - 7:30pm
Tickets: $23 in advance; $25 at-the-door with $2 off for Lincoln Theatre members.
The Lincoln Theatre
presents the one-man comedy, Scrambled McManus, by humor writer Patrick F. McManus and starring his indentured actor, Tim Behrens.  
Pat and Tim personally selected some of their favorite tales from the four complete McManus Comedies for inclusion in this story stew.   Stories include many audience favorites: The Night the Bear Ate Goombaw; The Grasshopper Trap; the Camping Trip with 100-year old Ed; First Date (with Melba Peachbottom); the Mummy Story (or how I learned to love the dark) and just for this show, Our First Cannon. The audience hears directly from 10 McManus characters as they humorously recount how story made them come to life, and why stories mean so much in the first place! 
The show appeals equally to diehard fans and to newcomers to the wacky wonderful world of Pat McManus and the denizens of his hometown of Blight, Idaho. 
McManus, one of the most popular humor writers in the country, has penned 23 titles which have sold more than 6 million copies. Five of his short humor collections have made the top 10 of the NY Times Bestseller's list.   His five one-man shows, all performed by Behrens, have played to more than 450,000 people in 23 states.
Reviewers' comments about the McManus Shows
:
"Outstanding performance…One terrific evening!" the late
Jack Lemmon
"
Behrens performs brilliantly, with an amazing range of facial expressions and
more limb twisting and odd-posturing humor than you'd ever imagine possible. The whole thing is kind of like a cross between Bill Cosby and Mark Twain." - 
Billings Gazette
Sponsored by Ray and Margaret Horak