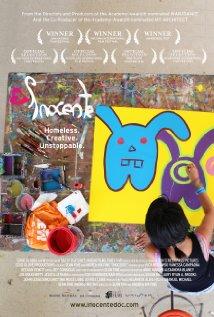 Community Action of Skagit County presents a screening of the 2013 Academy Award® winner for Best Documentary Short, Inocente, an inspiring coming-of-age story of a 15-year old girl in California. Though homeless and undocumented, she refuses to give up on her dream of being an artist, proving that the hand she has been dealt does not define her; rather, her dreams do.
The film will be followed by a discussion and resources related to homelessness in Skagit County. Proceeds from ticket sales will benefit the Skagit Volunteer Center to recruit 300+ community volunteers for the 2014 Skagit Project Homeless Connect, and Champions of Diversity, a scholarship program at Skagit Valley College.
In 2014, Community Action of Skagit County is hosting a series of community education events to mark the 35th anniversary of stabilizing lives and helping families exit poverty with local solutions and resources, and the 50th anniversary of Community Action nationally. Community Action's promise is to create a spirit of hope by "helping people help themselves, and each other." For more information, see www.CommunityActionSkagit.org.
 
Inocente Izucar is a teenage girl who likes rabbits, root beer floats, high-top sneakers, and especially painting. Inocente's artwork, using bright colors, bold patterns, and pop-art-influenced imagery, has already earned her acclaim as a talent to watch from the creative community in New York, where she lives, but she's a long way from being a typical teenage prodigy. Inocente's parents came to the United States illegally, her father was deported after physically abusing her mother, she and her  family have been homeless most of her life, and she once had to urge her mother away from the railing of a bridge when she was convinced it was better to jump than to go on living.
 
Documentary filmmakers Sean Fine and Andrea Nix Fine discovered Inocente Izucar while working on a project about homeless youth in New York City, and in Inocente they look into the life of a young woman determined to use her talents to make something of herself despite the odds.
 
This film is hosted by Community Action of Skagit County, fiscally sponsored by Amerigroup RealSolutions, and promoted by Oasis Teen Shelter, Skagit DVSAS, Skagit Valley College, Seamar, Skagit Valley College Multicultural Student Services and Human Services Club, and Community Action and the Latina/o Advisory Committee.
 
What the Critics are saying:
 
"Dreaming of a Life as Vivid as Her Art" – Robin Pogrebin, New York Times
 
"Insanely inspiring" – Kate Kennedy, Glamour
 
"The inspirational tale of a teenager whose father was deported for domestic abuse, and after moving from one homeless shelter to the next, finds "revolution," as she says, in color" - Eriq Gardner, The Hollywood Reporter
 
Inocente is presented by  Community Action of Skagit County as well as A Place at the Table which will be screened on November 4th, 2014.
 
Tickets are $10 available in advance by clicking here or at the door.