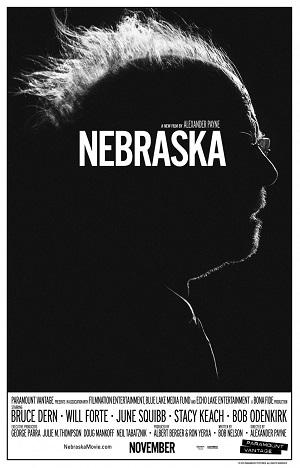 Saturday, Jan 25, 7:30 pm
I had a feeling if we held out long enough we'd be able to book this touching and very funny film from from one of our favorite directors Alexander Payne (Sideways, The Descendants) as he takes the helm for this black and white road trip drama starring Bruce Dern as a tempestuous Missouri father who's convinced he's won a million dollar magazine sweepstakes, and Will Forte as the son who grudgingly agrees to drive him to Nebraska to claim his winnings.
Director:  Alexander Payne
 
Starring: Bruce Dern, Will Fort, June Squibb, Bob Odenkirk and Stacy Keach  
What the Critics are saying:
 
Certified Fresh on Rotten Tomatoes
 
"Elegant in its simplicity and poetic in its message, Nebraska adds another stirringly resonant chapter to Alexander Payne's remarkable filmography."
Chicago Sun-Times
Richard Roeper
 
"Shot in beautiful tones of black and white (and silver and gray), Nebraska is steeped in nostalgia, regret and bittersweet moments. Yet it's also a pitch-perfect cinematic poem about the times we live in." 
 
 Los Angeles Times
Kenneth Turan
"Nebraska offers something deeper and more mature, the ability to make us care about its characters and their story on a different level than Payne has given us before." 
 
 USA Today
Claudia Puig
 
"Bruce Dern gives the performance of his career as the headstrong Woody in the brilliant, wisely observed and wryly funny Nebraska. What stands out is the fullness of the character, with mannerisms and expressions that make him wholly dimensional."
 
Wall Street Journal
Joe Morgenstern
 
"What's extraordinary is what happens at the intersection of Mr. Payne's impeccable direction and Mr. Nelson's brilliant script. The odyssey combines, quite effortlessly, prickly combat between father and son."
 
Variety
Scott Foundas
"Throughout, Payne gently infuses the film's comic tone with strains of longing and regret, always careful to avoid the maudlin or cheaply sentimental."
 
NPR
Bob Mondello
"The filmmaker has crammed Nebraska with orneriness, humor, greed, Americana and performances so natural they seem like found objects — especially Dern's, which caps a career of character parts with a delicately nuanced character."
 
Admission Prices*:
 
General: $10.00
Seniors, Students and Active Military: $9.00
Members: $8.00
Children 12 and under: $7.00
Bargain Matinee Prices (all shows before 6:00pm)
General: $8.00
Members: $6.00
Children 12 and under: $5.00
 
Your membership with the Lincoln Theatre saves you $2.00 per film ticket.
 
*All prices include a $1.50 Preservation Fee that goes directly into our capital account for preservation of the Lincoln Theatre and its programs. Film tickets are only available at the door beginning 45 minutes before the first screening of the day. This saves you, the ticket buyer the fees associated with purchasing online. Never fear – there are plenty of seats!
 
Monday film screenings are part of the Lincoln Theatre Member Mondays! Click here for details.
 
Film dates and times are subject to change and extended runs. Please check back here, or our phone message at 360.336.8955, day of show.