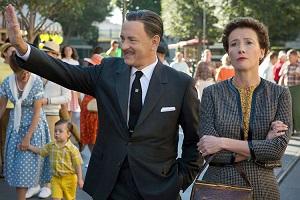 When Walt Disney's daughters begged him to make a movie of their favorite book, P.L. Travers' Mary Poppins, he made them a promise—one that he didn't realize would take 20 years to keep. In his quest to obtain the rights, Walt comes up against a curmudgeonly, uncompromising writer who has abo has absolutely no intention of letting her beloved magical nanny get mauled by the Hollywood machine. But, as the books stop selling and money grows short, Travers reluctantly agrees to go to Los Angeles to hear Disney's plans for the adaptation. For those two short weeks in 1961, Walt Disney pulls out all the stops. Armed with imaginative storyboards and chirpy songs from the talented Sherman brothers, Walt launches an all-out onslaught on P.L. Travers, but the prickly author doesn't budge. He soon begins to watch helplessly as Travers becomes increasingly immovable and the rights begin to move further away from his grasp. It is only when he reaches into his own childhood that Walt discovers the truth about the ghosts that haunt her, and together they set Mary Poppins free to ultimately make one of the most endearing films in cinematic history.
 
Director:  John Lee Hancock
 
Starring: Tom Hanks, Emma Thompson
What the Critics are saying:
Certified Fresh on Rotten Tomatoes
"Aggressively likable and sentimental to a fault, Saving Mr. Banks pays tribute to the Disney legacy with excellent performances and sweet, high-spirited charm."
 
ReelViews
James Berardinelli
 
"Taken on its own, Saving Mr. Banks is a pleasant, crowd-pleasing endeavor. For those with a soft spot for Mary Poppins, however, it's a treasure." 
 
Movie Nation
Roger Moore
"It was never going to be "Supercalifragilisticexpialidocious." Reserve that honor for the film that inspired it. But Saving Mr. Banks is still one of the best pictures of the year". 
 
Entertainment Weekly
Chris Nashawaty
"Saving Mr. Banks is a wholesomely square film about a wholesomely square film. But damned if its sugar doesn't go down like honey."  
 
 
New Orleans Times-Picayune
Mike Scott
"Speaking of good storytelling, Hancock knows a thing or two about that. Not only does the "Blind Side" director deftly navigate the double narrative of Saving Mr. Banks, but his film is also a visual treat".
 
Admission Prices*:
General: $10.00
Seniors, Students and Active Military: $9.00
Members: $8.00
Children 12 and under: $7.00
Bargain Matinee Prices (all shows before 6:00pm)
General: $8.00
Members: $6.00
Children 12 and under: $5.00
 
Your membership with the Lincoln Theatre saves you $2.00 per film ticket.
 
*All prices include a $1.50 Preservation Fee that goes directly into our capital account for preservation of the Lincoln Theatre and its programs. Film tickets are only available at the door beginning 45 minutes before the first screening of the day. This saves you, the ticket buyer the fees associated with purchasing online. Never fear – there are plenty of seats!
 
Monday film screenings are part of the Lincoln Theatre Member Mondays! Click here for details.
 
Film dates and times are subject to change and extended runs. Please check back here, or our phone message at 360.336.8955, day of show.