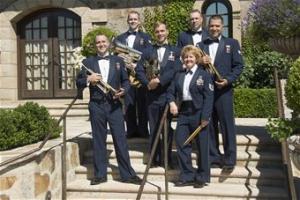 Tuesday, March 11, 2014 - 6:30pm
Travis Brass is the multitalented brass group of the United States Air Force Band of the Golden West. From a standard march or traditional brass composition to jazz, ragtime and the popular music of today, this group's diverse repertoire covers a myriad of styles to exhilarate audiences.
 
Throughout the West Coast, Travis Brass focuses on educational outreach through hands-on clinics, master classes and interactive concerts for aspiring musicians of all ages. Additionally, Travis Brass shares their enthusiasm and expertise, customizing every performance to provide entertainment for community relations concerts, TV shows and professional sporting events, as well as honoring military personnel.
 
Travis Brass is featured on the recording "Wood 'n Brass" and most recently appeared on the local television show Good Day Sacramento.
 
These talented artists are active duty professional musicians working in support of Air Mobility Command and the surrounding communities. Travis Brass' blend of sound, style and humor make them an entertaining ensemble, putting an evolutionary spin on music for tomorrow.
Free advance tickets are available at the Lincoln Theatre Box Office, Hugo Helmer Music (off Hwy 20 & I-5) and The Music Shoppe (off Cook Rd & I-5).
If you have tickets please arrive early - Doors open to non-ticket holders 15 minutes prior to show time.
Presented in memory of Eddie Loescher.