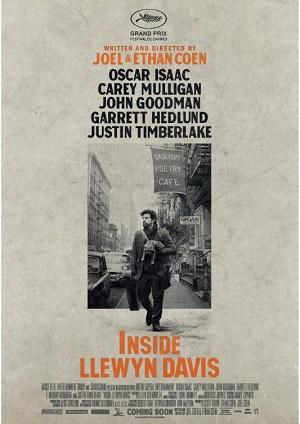 Saturday, Feb 22, 7:30 pm
INSIDE LLEWYN DAVIS follows a week in the life of a young folk singer as he navigates the Greenwich Village folk scene of 1961. Guitar in tow, huddled against the unforgiving New York winter, he is struggling to make it as a musician against seemingly insurmountable obstacles-some of them of his own making.
 
Director:  Ethan Coen & Joel Coen
 
Starring: Oscar Isaac, Carey Mulligan, Garrett Hedlund, John Goodman & Justin Timberlake,
What the Critics are saying:
Certified Fresh on Rotten Tomatoes
"Smart, funny, and profoundly melancholy, Inside Llewyn Davis finds the Coen brothers in fine form"
 
Portland Oregonian
Reviewed by: Marc Mohan
"As flawless as any film this year and rock-solid confirmation that Joel and Ethan Coen are the greatest filmmakers working in America (and perhaps anywhere else) today."
 
Philadelphia Inquirer
Reviewed by: Steven Rea
"Inside Llewyn Davis plays like some beautiful, foreboding, darkly funny dream."
 
Washington Post
Reviewed by: Ann Hornaday
"This soulful, unabashedly lyrical film is best enjoyed by sinking into it like a sweet, sad dream. When you wake up, a mythical place and time will have disappeared forever. But you'll know that attention — briefly, beautifully — has been paid."
St. Louis Post-Dispatch
Reviewed by: Calvin Wilson
"What Inside Llewyn Davis is all about: the passion, and the pain, of being an artist."
 
Empire
Reviewed by: Dan Jolin
"Inside Llewyn Davis throbs with melancholy, hunches under heavy skies, revels in music history's unsexiest scene and unapologetically leaves you dangling. It is also beautiful, heartfelt and utterly enthralling."
Miami Herald
Reviewed by: Rene Rodriguez
"Inside Llewyn Davis is one of the Coens' smallest movies — this one doesn't have the broad appeal of "True Grit" or "No Country For Old Men" — but like Llewyn's music, it comes from the heart and it is deeply felt. It is also one of their best."
 
Admission Prices*:
General: $10.00
Seniors, Students and Active Military: $9.00
Members: $8.00
Children 12 and under: $7.00
Bargain Matinee Prices (all shows before 6:00pm)
General: $8.00
Members: $6.00
Children 12 and under: $5.00
 
Your membership with the Lincoln Theatre saves you $2.00 per film ticket.
 
*All prices include a $1.50 Preservation Fee that goes directly into our capital account for preservation of the Lincoln Theatre and its programs. Film tickets are only available at the door beginning 45 minutes before the first screening of the day. This saves you, the ticket buyer the fees associated with purchasing online. Never fear – there are plenty of seats!
 
Monday film screenings are part of the Lincoln Theatre Member Mondays! Click here for details.
 
Film dates and times are subject to change and extended runs. Please check back here, or our phone message at 360.336.8955, day of show.