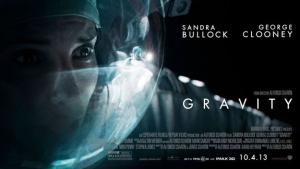 Saturday, Feb 15, 7:30 pm
Nominated for 10 Academy Awards, including best picture, the Lincoln is excited to screen Gravity as our first official 3D film. Gravity stars Sandra Bullock and George Clooney in a heart-pounding thriller that pulls you into the infinite and unforgiving realm of deep space. Bullock plays Dr. Ryan Stone, a brilliant medical engineer on her first shuttle mission, with veteran astronaut Matt Kowalsky (Clooney). But on a seemingly routine spacewalk, disaster strikes. The shuttle is destroyed, leaving Stone and Kowalsky completely alone - tethered to nothing but each other and spiraling out into the blackness. The deafening  silence tells them they have lost any link to Earth and any chance for rescue. As fear turns to panic, every gulp of air eats away at what little oxygen is left. But the only way home may be to go further out into the terrifying expanse of space.
Gravity demands to be seen in 3D and you can see Gravity on Skagit Valley's newest 3D Digital Projection System on Saturday, Monday and Tuesday at 7:30pm. Sunday's 5:30pm screening will be screened in 2D for those patrons affected by motion sickness or just can't be bothered by those silly little glasses.
 
Director:  Alfonso Cuarón (Y Tu Mama Tambien, Children of Men)
 
Starring: George Clooney and Sandra Bullock 
 
What the Critics are saying:
Certified Fresh on Rotten Tomatoes
"Alfonso Cuarón's Gravity is an eerie, tense sci-fi thriller that's masterfully directed and visually stunning."
 
RogerEbert.com
Matt Zoller Seitz
"For all its stunning exteriors, it's really concerned with emotional interiors, and it goes about exploring them with simplicity and directness." 
 
Washington Post
Ann Hornaday
"Thanks to Cuarón's prodigious gifts, Gravity succeeds simultaneously as a simple classic shipwreck narrative (albeit at zero-gravity), and as an utterly breathtaking restoration of size and occasion to the movies themselves."
 
Wall Street Journal
Joe Morgenstern
"In one form or another, motion pictures have been with us since the middle of the 19th century, but there's never been one like Gravity. What's new in Alfonso Cuarón's 3-D space adventure is the nature of the motion. It's as if the movie medium had been set free to dance in a bedazzling zero-gravity dream sequence."
USA Today
Claudia Puig
"The telling of this simple tale of survival required cutting-edge technology, but we don't notice the bells and whistles: They're on hand to immerse us in an unforgettable personal story."
 
Empire
Ian Nathan
"Pop quiz, hotshot: you're cut loose 375 miles above the Earth, oxygen is running out, communication is lost, catastrophic satellite debris is heading your way and you have no hope of rescue. What do you do? What do you do? The answer is the film of the year."
 
Los Angeles Times
Kenneth Turan
"Gravity is out of this world. Words can do little to convey the visual astonishment this space opera creates. It is a film whose impact must be experienced in 3-D on a theatrical screen to be fully understood."
 
Philadelphia Inquirer
Steven Rea
"A wildly suspenseful zero-g tale of survival 350 miles beyond the ozone layer, Alfonso Cuarón's space saga is emotionally jolting - and physically jolting, too."
 
Rolling Stone
Peter Travers
"Sandra Bullock, in the performance of a lifetime, spends most of this wondrous wallop of a movie lost in space, alone where no one can hear her scream."
 
New Orleans Times-Picayune
Mike Scott
"Gravity, it turns out, is a great film, a technical and storytelling masterpiece that is buoyed by stunning visuals and which functions both as a ripping, tension-filled yarn and as a profound and life-affirming work of art."
 
The Globe and Mail (Toronto)
Liam Lacey
"Gravity, a weightless ballet and a cold-sweat nightmare, intimates mystery and profundity, with that mixture of beauty and terror that the Romantics called the sublime."
San Francisco Chronicle
Mick LaSalle
"See Gravity in theaters, because on television something will be lost. Alfonso Cuarón has made a rare film whose mood, soul and profundity is bound up with its images. To see such images diminished would be to see a lesser film, perhaps even a pointless one."
 
Admission Prices*:
General: $10.00
Seniors, Students and Active Military: $9.00
Members: $8.00
Children 12 and under: $7.00
 
Bargain Matinee Prices (all shows before 6:00pm)
General: $8.00
Members: $6.00
Children 12 and under: $5.00
 
Add $2.00 to the above prices for 3D screenings.
 
Your membership with the Lincoln Theatre saves you $2.00 per film ticket.
 
*All prices include a $1.50 Preservation Fee that goes directly into our capital account for preservation of the Lincoln Theatre and its programs. Film tickets are only available at the door beginning 45 minutes before the first screening of the day. This saves you, the ticket buyer the fees associated with purchasing online. Never fear – there are plenty of seats!
 
Monday film screenings are part of the Lincoln Theatre Member Mondays! Click here for details.
 
Film dates and times are subject to change and extended runs. Please check back here, or our phone message at 360.336.8955, day of show. http://www.lincolntheatre.org/benefits-membership