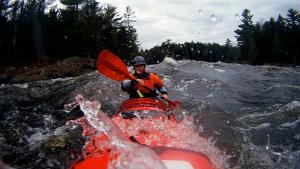 It's WET. It's WILD.
It's BLAZING PADDLES!
 
A PADDLING FILM FESTIVAL celebrating the passion of paddlesports.
 
An evening of the latest and greatest films showcasing the challenges, beauty and community inherent in the world of paddling. This visual feast will inspire people to explore rivers, lakes, and oceans, push physical and emotional extremes, and appreciate the heritage of the wild places we paddle. Films will cover action, documentary, humor, and environmental categories featuring sea kayaking, whitewater kayaking, surf skiing, canoeing, rafting, stand-up paddle boarding and other paddling-related footage.
 
Get in on the action—and a unique opportunity to view some of the best in watersports films. 
 
Brought to you by Paddle4Ever and Washington Water Trails Association. 
 
Admission is $15 at-the-door.