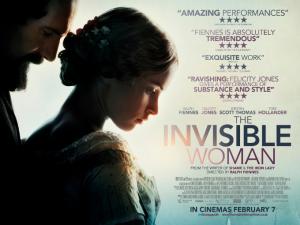 The Invisible Woman is a 2013 British biographical drama film directed by the great Ralph Fiennes and based on Claire Tomalin's book The Invisible Woman: The Story of Nelly Ternan and Charles Dickens. Nelly (Felicity Jones), a happily-married mother and schoolteacher, is haunted by her past. Her memories, provoked by remorse and guilt, take us back in time to follow the story of her relationship with Charles Dickens (Ralph Fiennes) with whom she discovered an exciting but fragile complicity.
Director:  Ralph Fiennes 
Starring: Felicity Jones, Ralph Fiennes, Kristin Scott Thomas,Tom Hollander
  
What the Critics are saying:
Certified Fresh on Rotten Tomatoes
"Its deliberate pace will frustrate some viewers, but for fans of handsomely mounted period drama, The Invisible Woman offers visual as well as emotional cinematic nourishment."
 
Los Angeles Times
Kenneth Turan
"The Invisible Woman is an exceptional film about love, longing and regret. It's further proof, if proof were needed, that classic filmmaking done with passion, sensitivity and intelligence results in cinema fully capable of blowing you away."
 
Variety
Scott Foundas
"So tastefully mounted and brilliantly acted that it wears down even the corset-phobic's innate resistance to such things."
 
 
The Hollywood Reporter
Todd McCarthy
 
"A career high point for Ralph Fiennes as both an actor and director, this unfussy and emotionally penetrating work also provides lead actress Felicity Jones with the prime role in which she abundantly fulfills the promise suggested in some of her earlier small films." 
 
New York Magazine (Vulture)
David Edelstein
"With her swanlike neck and ever-flushing complexion, Felicity Jones has a perfect nineteenth-century look, but there's something forward and modern about her physiognomy, her huge eyes and strong nose and overbite. As she gazes down in enforced modesty, you feel her soul about to burst. The performance is startlingly vivid." 
 
Village Voice
Nick Schager
"The Invisible Woman finds Ralph Fiennes proving as adept behind the camera as he is in front of it."
 
 
RogerEbert.com
Godfrey Cheshire
"The film represents a formidable achievement for Fiennes as both actor and director."
 
Admission Prices*:
General: $10.00
Seniors, Students and Active Military: $9.00
Members: $8.00
Children 12 and under: $7.00
 
Bargain Matinee Prices (all shows before 6:00pm)
General: $8.00
Members: $6.00
Children 12 and under: $5.00
 
Add $2.00 to the above prices for 3D screenings.
 
Your membership with the Lincoln Theatre saves you $2.00 per film ticket.
 
*All prices include a $1.50 Preservation Fee that goes directly into our capital account for preservation of the Lincoln Theatre and its programs. Film tickets are only available at the door beginning 45 minutes before the first screening of the day. This saves you, the ticket buyer the fees associated with purchasing online. Never fear – there are plenty of seats!
 
Monday film screenings are part of the Lincoln Theatre Member Mondays! Click here for details.
 
Film dates and times are subject to change and extended runs. Please check back here, or our phone message at 360.336.8955, day of show.