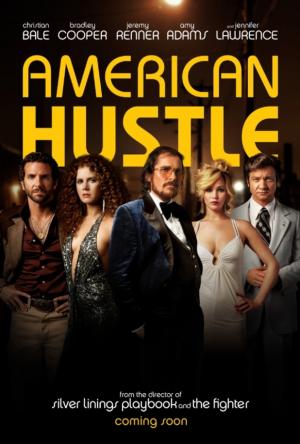 Saturday, Mar 15, 7:30 pm
With 10 Academy Award Nominations including Best Picture American Hustle stands out as one of the best films of the year. Lincoln favorite, David O. Russell (Sliver Linings Playbook, The Fighter, Three Kings, the list goes on) directs this fictional film set in the alluring world of one of the most stunning scandals to rock our nation, American Hustle tells the story of con man Irving Rosenfeld (Christian Bale), who along with his equally cunning and seductive partner Sydney Prosser (Amy Adams) is forced to work for a wild FBI agent Richie DiMaso (Bradley Cooper). DiMaso pushes them into a world of Jersey powerbrokers and mafia that's as dangerous as it is enchanting. Caught between the con-artists and Feds is Carmine Polito (Jeremy Renner), the passionate, volatile, New Jersey political operator, but it's Irving's unpredictable wife Rosalyn (Jennifer Lawrence) who could be the one to pull the thread that brings the entire world crashing down.
 
Director:  David O. Russell
 
Starring: Amy Adams, Bradley Cooper, Christian Bale, Jennifer Lawrence, Jeremy Renner, Louis C.K., Robert De Niro and Alessandro Nivola 
 
What the Critics are saying:
Certified Fresh on Rotten Tomatoes
"Riotously funny and impeccably cast, American Hustle compensates for its flaws with unbridled energy and some of David O. Russell's most irrepressibly vibrant direction."
 
Salon.com
Andrew O'Hehir
"A work of tremendous confidence and dazzling showmanship that may just be a delirious movie-as-drug-high or may, if you choose to read it this way, contain a level of commentary about the nature of America and the illusioneering of Hollywood."
 
New York Magazine (Vulture)
David Edelstein
"The movie is a slot machine that never stops spitting quarters." 
 
New York Daily News
Joe Neumaier
"There's a great fever-dream quality to David O. Russell's American Hustle that instantly reels you in."
 
Philadelphia Inquirer
Steven Rea
"Big hair. Big mouths. Big scams. Everything about American Hustle, David O. Russell's wild and woolly take on the late-'70s FBI sting operation code-named Abscam, is big. And the biggest thing of all is the love story that beats at the heart of this rollicking disco-era ensemble piece."
 
St. Louis Post-Dispatch
Joe Williams
"As much as anything, the wildly entertaining '70s flashback American Hustle is a triumph of style."
 
San Francisco Chronicle
Mick LaSalle
"American Hustle is David O. Russell's best film, one that finds him in that ideal zone of spontaneity and complete control."
 
Chicago Tribune
Michael Phillips
"The whole movie, a feast of ensemble wiles and stunning hair, is juicy, funny and alive."
 
Tampa Bay Times
Steve Persall
"Russell and co-writer Eric Warren Singer lay out these deceits and double-crosses with precision but American Hustle isn't merely a procedural. Defining these outsized personalities, tracing their unconventional connections and affections, is where Russell's movie finds its irreverent heartbeat."
 
Chicago Sun-Times
Richard Roeper
"American Hustle is the best time I've had at the movies all year, a movie so perfectly executed, such wall-to-wall fun, so filled with the joy of expert filmmaking on every level I can't imagine anyone who loves movies not loving THIS movie."
 
RogerEbert.com
Christy Lemire
"David O. Russell out-Scorseses Martin Scorsese with American Hustle, a '70s crime romp that's ridiculously entertaining in all the best ways.
 
Admission Prices*:
General: $10.00
Seniors, Students and Active Military: $9.00
Members: $8.00
Children 12 and under: $7.00
Bargain Matinee Prices (all shows before 6:00pm)
General: $8.00
Members: $6.00
Children 12 and under: $5.00
Add $2.00 to the above prices for 3D screenings.
 
Your membership with the Lincoln Theatre saves you $2.00 per film ticket.
 
*All prices include a $1.50 Preservation Fee that goes directly into our capital account for preservation of the Lincoln Theatre and its programs. Film tickets are only available at the door beginning 45 minutes before the first screening of the day. This saves you, the ticket buyer the fees associated with purchasing online. Never fear – there are plenty of seats!
 
Monday film screenings are part of the Lincoln Theatre Member Mondays! Click here for details.
 
Film dates and times are subject to change and extended runs. Please check back here, or our phone message at 360.336.8955, day of show.