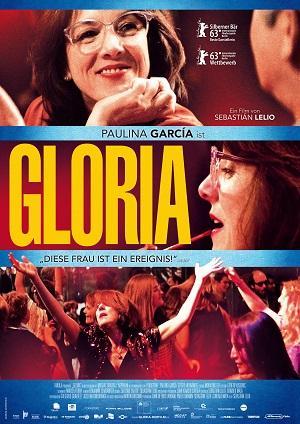 Running time: 110 minutes
Gloria is a "woman of a certain age" but still feels young. Though lonely, she makes the best of her situation and fills her nights seeking love at social dance clubs for single adults. Her fragile happiness changes the day she meets Rodolfo. Their intense passion, to which Gloria gives her all, leaves her vacillating between hope and despair -- until she uncovers a new strength and realizes that, in her golden years, she can shine brighter than ever. Gloria is Chile's official entry for Best  Foreign Language Film at the 86th Academy Awards (R), and stars Paulina García in a tour de force performance that captured the Silver Bear Best Actress Award at this year's Berlin Film Festival.
 
Director:  Sebastián Lelio
 
Starring: Paulina Garcia, Alejandro Goic, Diego Fontecilla, Fabiola Zamora, Liliana Garcia, Luz Jiménez and Sergio Hern
 
What the Critics are saying:
 
Certified Fresh on Rotten Tomatoes
"Marvelously directed by Sebastian Lelio and beautifully led by a powerful performance from Paulina Garcia, Gloria takes an honest, sweetly poignant look at a type of character that's all too often neglected in Hollywood."
 
RogerEbert.com
Susan Wloszczyna
 
"There is that feeling you get inside when a movie suddenly starts to push your every button, creating an emotional connection that goes beyond pure reason and mere emotion. It elevates your mood to such a point that you wish you could hug the screen out of sheer joy and recognition. That is what Gloria did to me."
  
The New York Times
A.O. Scott
"The great accomplishment of Gloria, the Chilean writer-director Sebastián Lelio's astute, unpretentious and thrillingly humane new film, is that it acknowledges both sides of its heroine's temperament without judgment or sentimentality."
 
The Hollywood Reporter
David Rooney
"Gloria is a work of maturity, depth and emotional insight. There's not a single false note here."
 
The Playlist
Jessica Kiang
"Gloria is an endlessly watchable creation—a wonderful example of an actress melting into a role, and a co-writer/director with almost superhuman levels of sensitivity and empathy for his characters."
 
Los Angeles Times
Betsy Sharkey
"Between Lelio's ingenuity in staging the film, an extremely clever script co-written with his frequent collaborator, Gonzalo Maza, and the pumping disco that interjects its opinions and assessments of each situation, Gloria is one of the most enjoyable movies to come along in a while."
 
Admission Prices*:
General: $10.00
Seniors, Students and Active Military: $9.00
Members: $8.00
Children 12 and under: $7.00
Bargain Matinee Prices (all shows before 6:00pm)
General: $8.00
Members: $6.00
Children 12 and under: $5.00
Add $2.00 to the above prices for 3D screenings.
 
Your membership with the Lincoln Theatre saves you $2.00 per film ticket.
 
*All prices include a $1.50 Preservation Fee that goes directly into our capital account for preservation of the Lincoln Theatre and its programs. Film tickets are only available at the door beginning 45 minutes before the first screening of the day. This saves you, the ticket buyer the fees associated with purchasing online. Never fear – there are plenty of seats!
 
Monday film screenings are part of the Lincoln Theatre Member Mondays! Click here for details.
 
Film dates and times are subject to change and extended runs. Please check back here, or our phone message at 360.336.8955, day of show.