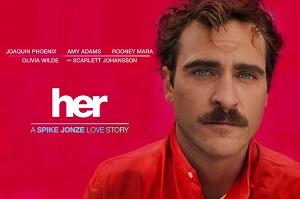 Set in the Los Angeles of the slight future, Her follows Theodore Twombly, a complex, soulful man who makes his living writing touching, personal letters for other people. Heartbroken after the end of a long relationship, he becomes intrigued with a new, advanced operating system, which promises to be an intuitive entity in its own right, individual to each user. Upon initiating it, he is delighted to meet "Samantha," a bright, female voice, who is insightful, sensitive and surprisingly funny. As her needs and desires grow, in tandem with his own, their friendship deepens into an eventual love for each other.
 
Director:  Spike Jonze
 
Starring: Joaquin Phoenix, Amy Adams, Chris Pratt, Olivia Wilde, Rooney Mara, Samantha Morton and Scarlett Johansson
 
What the critics are saying:
 
Certified Fresh on Rotton Tomatoes
 
"Sweet, soulful, and smart, Spike Jonze's Her uses its just-barely-sci-fi scenario to impart wryly funny wisdom about the state of modern human relationships."
 
Christian Science Monitor
Peter Rainer
 
"The wistfulness in this movie is large-souled. Theodore may worry that his love for Samantha makes him a freak, but Amy knows that "anybody who loves is a freak." All this may sound touchy-feely in the worst way, but Jonze is trying to get at how we seek romantic connection in this brave (or not so brave) new world. Like Theodore, he risks looking foolish." 
 
Arizona Republic
Bill Goodykoontz
"Her is an outstanding movie, in part because of its originality, but also because of its execution." 
Philadelphia Inquirer
Steven Rea
"Sad, funny, and quietly alarming romance."
 
 
The New Yorker
Anthony Lane
"Sad, kooky, and daunting in equal measure, Her is the right film at the right time."
 
 
Chicago Sun-Times
Richard Roeper
"Her works as a real romance, and as a commentary on the ways technology connects everyone to the world but also isolates us from legitimate, warm human contact."
Admission Prices*:
General: $10.00
Seniors, Students and Active Military: $9.00
Members: $8.00
Children 12 and under: $7.00
Bargain Matinee Prices (all shows before 6:00pm)
General: $8.00
Members: $6.00
Children 12 and under: $5.00
Add $2.00 to the above prices for 3D screenings.
 
Your membership with the Lincoln Theatre saves you $2.00 per film ticket.
 
*All prices include a $1.50 Preservation Fee that goes directly into our capital account for preservation of the Lincoln Theatre and its programs. Film tickets are only available at the door beginning 45 minutes before the first screening of the day. This saves you, the ticket buyer the fees associated with purchasing online. Never fear – there are plenty of seats!
 
Monday film screenings are part of the Lincoln Theatre Member Mondays! Click here for details.
 
Film dates and times are subject to change and extended runs. Please check back here, or our phone message at 360.336.8955, day of show.