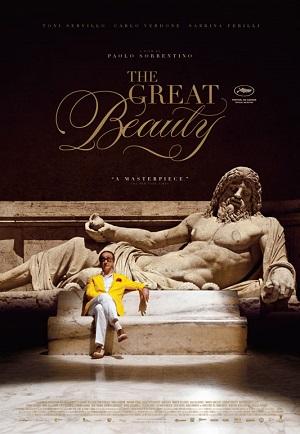 The Lincoln Theatre is excited to welcome a screening of the winner of this year's Best Foreign Language Film, The Great Beauty. This is a gorgeous film that demands to be seen on the big screen.
 
Journalist Jep Gambardella (the dazzling Toni Servillo, Il divo and Gomorrah) has charmed and seduced his way through the lavish nightlife of Rome for decades. Since the legendary success of his one and only novel, he has been a permanent fixture in the city's literary and social circles, but when his sixty-fifth birthday coincides with a shock from the past, Jep finds himself unexpectedly taking stock of his life, turning his cutting wit on himself and his contemporaries, and looking past the  extravagant nightclubs, parties, and cafés to find Rome in all its glory: a timeless landscape of absurd, exquisite beauty.
 
Director:  Paolo Sorrentino
 
Starring: Toni Servillo, Carlo Verdone, Sabrina Ferilli
 
What the critics are saying:
 
Certified Fresh on Rotten Tomatoes
 
"Dazzlingly ambitious, beautifully filmed, and thoroughly enthralling, The Great Beauty offers virtuoso filmmaking from writer/director Paolo Sorrentino."
San Francisco Examiner
Walter Addiego
 
"If you know Federico Fellini's "La Dolce Vita," you'll be unable to watch The Great Beauty without thinking about it. This gorgeous Italian movie, like its predecessor, balances pungent satire and a more melancholy mood in portraying the dissolute world of the upper crust in contemporary Rome."
 
 
RogerEbert.com
Simon Abrams
"This 43-year-old filmmaker is a major talent. Though he may not be the second coming of Fellini, his films all have a funny, refreshingly complex perspective, and his latest work is a perfect example of why he is the next big Italian thing."
 
The New York Times
Manohla Dargis
"A deliriously alive movie, The Great Beauty is the story of a man, a city, a country and a cinema, though not necessarily in that order."
 
Village Voice
Michael Atkinson
"There's little sense in trying to resist the film's relentless boogie-woogie party vibe, its tumultuous visual banquet, its unpredictable sense of switchblade satire, its fools' parade of modern grotesques, or its river of startling melancholy, turning from a wary trickle to a flash flood by film's end. Sorrentino's vision is the size of Rome itself, and his confidence is dazzling." 
 
The Telegraph
Robbie Collin
"A shimmering coup de cinema to make your heart burst, your mind swim and your soul roar."
 
 
New York Magazine (Vulture)
Bilge Ebiri
"The Great Beauty is a subtly daring cinematic high-wire act — an entire film built around one character's unrealized, unspecified yearning. And it might just be the most unforgettable film of the year."
 
Los Angeles Times
Kenneth Turan
"As its name promises, The Great Beauty is drop-dead gorgeous, a film that is luxuriously, seductively, stunningly cinematic. But more than intoxicating imagery is on director Paolo Sorrentino's mind, a lot more."
 
Admission Prices*:
General: $10.00
Seniors, Students and Active Military: $9.00
Members: $8.00
Children 12 and under: $7.00
Bargain Matinee Prices (all shows before 6:00pm)
General: $8.00
Members: $6.00
Children 12 and under: $5.00
Add $2.00 to the above prices for 3D screenings.
 
Your membership with the Lincoln Theatre saves you $2.00 per film ticket.
 
*All prices include a $1.50 Preservation Fee that goes directly into our capital account for preservation of the Lincoln Theatre and its programs. Film tickets are only available at the door beginning 45 minutes before the first screening of the day. This saves you, the ticket buyer the fees associated with purchasing online. Never fear – there are plenty of seats!
 
Monday film screenings are part of the Lincoln Theatre Member Mondays! Click here for details.
 
Film dates and times are subject to change and extended runs. Please check back here, or our phone message at 360.336.8955, day of show.