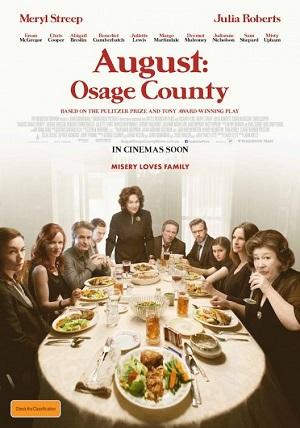 August: Osage County tells the dark, hilarious and deeply touching story of the strong-willed women of the Weston family, whose lives have diverged until a family crisis brings them back to the Midwest house they grew up in, and to the dysfunctional woman who raised them. Based on Tracy Letts' play, August: Osage County made its Broadway debut in December 2007 after premiering at Chicago's legendary Steppenwolf Theatre earlier that year. It continued with a successful international run.
 
Director:  John Wells
 
Starring: Meryl Streep, Julia Roberts, Abigail Breslin, Benedict Cumberbatch, Chris Cooper, Dermot Mulroney, Ewan McGregor, Julianne Nicholson, Juliette Lewis & Sam Shepard
 
What the critics are saying:
 
Certified Fresh on Rotten Tomatoes
 
"The sheer amount of acting going on in August: Osage County threatens to overwhelm, but when the actors involved are as talented as Meryl Streep and Julia Roberts, it's difficult to complain."
 
Portland Oregonian
Jamie S. Rich
"August: Osage County goes to some heavy places, upturning long-buried resentments and secrets. It can be a lot to take at times, but Letts' knack for dark humor, and Streep's flawless delivery of the same, allows for levity when the tale is at its most bleak."
 
Variety
Scott Foundas
 
"This two-ton prestige pic won't win the hearts of highbrow critics or those averse to door-slamming, plate-smashing, top-of-the-lungs histrionics, but as a faithful filmed record of Letts' play, one could have scarcely hoped for better."
 
 St. Louis Post-Dispatch
Joe Williams
"For those who appreciate fiery dialogue delivered by fine actors, August: Osage County is heaven-sent." 
 
Total Film
Neil Smith
"This classy adaptation of a much-garlanded stage play will appeal to discerning audiences who can tolerate unpleasant characters with potty mouths if they're played by Oscar winners."
 
 
Wall Street Journal
Joe Morgenstern
 
"Family dysfunction has seldom been as flamboyant—or notable for its performances and flow of language—as it is in this screen version of the Tracy Letts play."
 
Admission Prices*:
General: $10.00
Seniors, Students and Active Military: $9.00
Members: $8.00
Children 12 and under: $7.00
Bargain Matinee Prices (all shows before 6:00pm)
General: $8.00
Members: $6.00
Children 12 and under: $5.00
Add $2.00 to the above prices for 3D screenings.
 
Your membership with the Lincoln Theatre saves you $2.00 per film ticket.
 
*All prices include a $1.50 Preservation Fee that goes directly into our capital account for preservation of the Lincoln Theatre and its programs. Film tickets are only available at the door beginning 45 minutes before the first screening of the day. This saves you, the ticket buyer the fees associated with purchasing online. Never fear – there are plenty of seats!
 
Monday film screenings are part of the Lincoln Theatre Member Mondays! Click here for details.
 
Film dates and times are subject to change and extended runs. Please check back here, or our phone message at 360.336.8955, day of show.