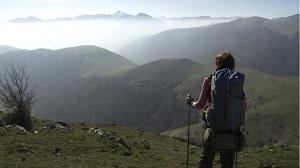 Saturday, Apr 26, 5:30 pm
Saturday, Apr 26, 8:00 pm
We will be featuring Wines of the Camino to celebrate the showing of Walking the Camino: Six Way to Santiago thanks to Doug Charles at Compass Wines in Anacortes. Doug put us in touch with Margarita Jones of Elliot Bay Distributors, who specializes in the wines of Spain. Margarita is also not stranger to the Camino - she has walked it four times! The Lincoln will be pouring several very special wines familiar to Camino pilgrims. You will have three opportunities to taste these wines: Friday Night from 6:30 - 7:30pm before the film, Saturday from 7:00 - 8:00 between the two screenings and again on Sunday from 4:30 - 5:30 between the two screenings. Margarita will be here on Friday night only because she leaves for Spain on Sunday for her fifth visit to the Camino. If you are interested in purchasing any of these wines, we will have order forms available. Compass Wines has generously offered to fill these orders and donate 10% of the profits to the Lincoln Theatre.
We will also have a limited edition DVD of over two hour of unseen footage from the film available for $20 that goes to help pursue distribution of the film, some free swag and books of the Camino from Village Books in Fairhaven. Please stay after the film screenings for a short video Q & A by director Lydia B. Smith and informal pilgrim gatherings.
500 miles on foot. Bunk-beds. Blisters. Stunning landscapes. World-class snorers. Hot searing sun, freezing cold rain. Kindness from strangers. Debilitating injury. Unexpected romance. No toilet paper when you really need it. Profound grief and deep doubt. Hunger. Laughing with new friends. Total exhaustion. You are guaranteed to experience all of this when walking the ancient pilgrim path, the Camino de Santiago.
 
Across Spain, this sacred path stretches westward to the city of Santiago de Compostela where the bones of the apostle St. James are said to be buried. The Camino is world-renowned; UNESCO named it a World Heritage Site and the Council of Europe declared it the first European Cultural Itinerary. Millions of people from all over the world have traveled this trail for over 1,000 years – in 2010 alone, over 270,000 people attempted the arduous trek – each one a seeker of something.
 
In the Middle Ages, pilgrims sought forgiveness of their sins and admission to heaven. The Camino remains, for many, a quest of faith. Others begin with no spiritual impetus in mind, but nevertheless are drawn to examine their personal beliefs and life purpose. And others are in it simply for the intense physical challenge. Whatever their motivation, no one can predict just how their path will unfold, who they will meet, what personal demons or angels they will face, or what transformations they will undergo by the trail's end.
 
Walking the Camino is an up-close look at one of humanity's most time-honored traditions. By following pilgrims from all walks of life as they attempt to cross an entire country on foot with only a backpack, a pair of boots and an open mind, we witness the Camino's magnetic and miraculous power to change lives. Driven by an inexplicable calling and a grand sense of adventure, each pilgrim throws themselves heart-and-soul into their physical trek to Santiago and, most importantly, their personal journey to themselves
.
Director:  Lydia B. Smith
  
Admission Prices*:
General: $10.00
Seniors, Students and Active Military: $9.00
Members: $8.00
Children 12 and under: $7.00
Bargain Matinee Prices (all shows before 6:00pm)
General: $8.00
Members: $6.00
Children 12 and under: $5.00
Add $2.00 to the above prices for 3D screenings.
 
Your membership with the Lincoln Theatre saves you $2.00 per film ticket.
 
*All prices include a $1.50 Preservation Fee that goes directly into our capital account for preservation of the Lincoln Theatre and its programs. Film tickets are only available at the door beginning 45 minutes before the first screening of the day. This saves you, the ticket buyer the fees associated with purchasing online. Never fear – there are plenty of seats!
 
Monday film screenings are part of the Lincoln Theatre Member Mondays! Click here for details.
 
Film dates and times are subject to change and extended runs. Please check back here, or our phone message at 360.336.8955, day of show.