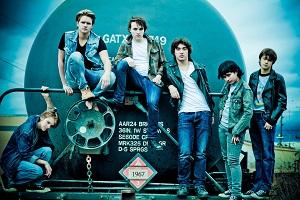 Friday, May 2, 2014 - 7:30pm
Saturday, May 3, 2014 - 7:30pm
Thursday, May 8, 2014 - 7:30pm
Friday, May 9, 2014 - 7:30pm
Saturday, May 10, 2014 - 7:30pm
Sunday, May 11, 2014 - 2:00pm
Thursday, May 15, 2014 - 7:30pm
Friday, May 16, 2014 - 7:30pm
Saturday, May 17, 2014 - 7:30pm
Thursday, May 15th performance , Middle and High School students show your I.D. and get in for $10.00!
All Tickets are $16 Festival Seating
META performing arts is bringing The Outsiders to the Lincoln Theater Stage in May of 2014.
This must see drama is based on the well-loved story written by SE Hinton when she was only 16 years old. The story  unfolds in 1967 Oklahoma, where two sets of kids The Greaser's and The Soc's fight out their differences, and learn from one another along the way. The unforgettable characters such as Pony Boy, Soda Pop, Darry, Dallas, Two Bit and Johnny Boy show tremendous friendship, loyalty, and love despite their harsh and unprivileged upbringing. Directed by local actress Lindsey Bowen, this is a Must See Production.