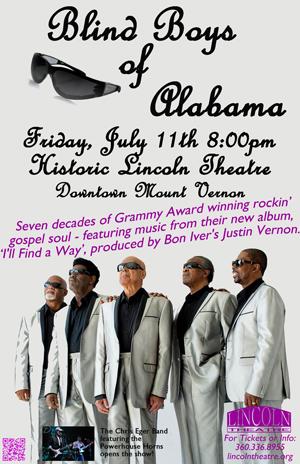 Friday, July 11, 2014 - 8:00pm
Advance reserved seating tickets are $55, $50, $45 & $30 with $2 off for Lincoln Theatre members.
The Blind Boys of Alabama return to the Historic Lincoln Theatre on Friday, July 11th at 8:00pm, their first appearance here since their stunning sold-out concert in 2009. Local Favorites The Chris Eger Band featuring the Powerhouse Horns opens the show!
Blind Boys of Alabama are a five-time Grammy Award winning gospel group from Alabama. They first sang together in 1944. Since then, the group's output has spanned seven decades of tours and appearances, and produced a successful discography including their new album, produced by Bon Iver's Justin Vernon, I'll Find a Way.
The performing core of the group consists of eight musicians, including four blind singers, original founding member Jimmy Carter, Benjamin Moore, Eric "Ricky" McKinnie, and Paul Beasley, plus the guitarist and musical director, Joey Williams. Rounding out the band will be a keyboard player, a bass player, and a drummer.
Since their formation, Blind Boys of Alabama have made it their self-proclaimed goal to "spiritually uplift audiences". The gospel group has been a source of inspiration for those with disabilities. In the words of one of the group's blind members, Ricky McKinnie, "Our disability doesn't have to be a handicap. It's not about what you can't do. It's about what you do. And what we do is sing good gospel music."
Nearly seventy-five years after they hit their first notes together, the Blind Boys of Alabama are exceptional not only in their longevity, but also in the breadth of their catalog and their relevance to contemporary roots music. Since 2000, they've won five Grammys and four Gospel Music Awards, and have delivered their spiritual message to countless listeners. "We appreciate the accolades and we thank God for them," says Jimmy Carter, a founding member and the Blind Boys' leader for five years now. "But we're not interesting in money or anything other than singing gospel. We had no idea when we started that we would make it this far. The secret to our longevity is, we love what we do. And when you love what you do, that keeps you motivated. That keeps you alive."
Their new album, I'll Find a Way produced by Bon Iver's Justin Vernon is a collision of worldviews — not only between Christian and non-Christian, but also between Southerner and Midwesterner, between black and white, between young and old—drives the music of I'll Find a Way, which is as fiery and as fervent and as fearless as you would expect from the Blind Boys. That the group can transition so smoothly from an old Philly soul tune to a new indie folk ballad and from a century-old spiritual to a '70s reggae nugget is a testament to their incredible range as singers and as interpreters. I'll Find a Way proves a sonically adventurous and spiritually generous album, yet everything falls neatly under the gospel label. "We sing from the heart, and what comes from the heart reaches the heart," says Carter. "If you have any feeling in you, you will feel the Blind Boys."
Chris Eger has recently signed with Premier Records and is working on a new album to be recorded in Nashville with some big name talent. We hope Chris has some more information to release at The Blind Boys concert!