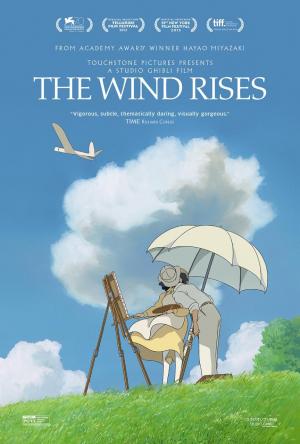 Saturday, Apr 19, 3:00 pm
Running Time: 126 minutes
In The Wind Rises, Jiro dreams of flying and designing beautiful airplanes, inspired by the famous Italian aeronautical designer Caproni. Nearsighted from a young age and unable to be a pilot, Jiro joins a major Japanese engineering company in 1927 and becomes one of the world's most innovative and accomplished airplane designers.
 
Say it isn't so. Hayao Miyazaki's final film? He's said it before so we can only hope it's not true this time. My family has grown up with all of the films from the Studio Ghibli co-founder. Some of our favorites include: My Neighbor Totoro, Kiki's Delivery Service, Porco Rosso, Princess Mononoke, Spirited Away, Howl's Moving Castle & Ponyo. These are all beautifully hand drawn films that adults will enjoy as much as children.
 
Directed By: Hayao Miyazaki
 
Voice Cast: Joseph Gordon-Levitt, John Krasinski, Emily Blunt, Martin Short, Stanley Tucci, Mandy Patinkin, Mae Whitman, Werner Herzog, Jennifer Grey, William H. Macy, Zach Callison, Madeleine Rose Yen, Eva Bella, Edie Mirman, Darren Criss, Elijah Wood, Ronan Farrow and David Cowgill.
 
 What the critics are saying:
 
 Certified Fresh on Rotten Tomatoes
 
"The Wind Rises is a fittingly bittersweet swan song for director Hayao Miyazaki."
 
 "The film is one of the most rapturously beautiful that Miyazaki has made, and all the more unsettling because of it." – Ben Sachs, Chicago Reader
 
 "At 73, Miyazaki's farewell is many things -- gorgeous, beckoning, compassionate. For better and worse, it soars above child's play." – Lisa Kennedy, Denver Post
 
 "A work of immense mystery and strangeness, loaded with unforgettable images, spectacular sweeps of color and nested, hidden meanings." -Andrew O'Hehir, Salon.com
 
 "The film doesn't take the obvious moralistic steps that could avert backlash - it's pure Miyazaki, a perspective influenced by history and reflective of a 50-year career." – Matt Patches, IGN Movies
 
Admission Prices*:
 
General: $10.00
Seniors, Students and Active Military: $9.00
Members: $8.00
Children 12 and under: $7.00
 
Bargain Matinee Prices (all shows before 6:00pm)
General: $8.00
Members: $6.00
Children 12 and under: $5.00
 
Add $2.00 to the above prices for 3D screenings.
 
Your membership with the Lincoln Theatre saves you $2.00 per film ticket.
 
*All prices include a $1.50 Preservation Fee that goes directly into our capital account for preservation of the Lincoln Theatre and its programs. Film tickets are only available at the door beginning 45 minutes before the first screening of the day. This saves you, the ticket buyer the fees associated with purchasing online. Never fear – there are plenty of seats!
 
Monday film screenings are part of the Lincoln Theatre Member Mondays! Click here for details.
 
Film dates and times are subject to change and extended runs. Please check back here, or our phone message at 360.336.8955, day of show.