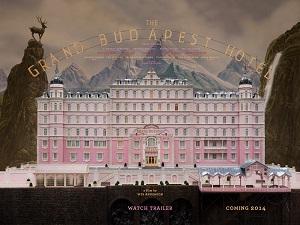 Saturday, May 24, 7:30 pm
Patience is its own reward. The Grand Budapest Hotel has come to the Lincoln. Wes Anderson, one of our favorite directors (remember when we could actually book his films when they were first released?), has put his wonderfully stylized touch on this whimsical, yet substantial, film that critics are calling one of his best.
 
The Grand Budapest Hotel recounts the adventures of M. Gustave, a legendary concierge at a famous European hotel between the wars, and Zero Moustafa, the lobby boy who becomes his most trusted friend. The story involves the theft and recovery of a priceless Renaissance painting and the battle for an enormous family fortune—all against the back-drop of a suddenly and dramatically changing continent.
 
Director:  Wes Anderson
 
Starring:  Adrien Brody, Bill Murray, Edward Norton, F. Murray Abraham, Harvey Keitel, Jeff Goldblum, Jude Law, Léa Seydoux, Mathieu Amalric, Ralph Fiennes, Saoirse Ronan, and Willem Dafoe
 
What the critics are saying:
 
Certified Fresh on Rotten Tomatoes
 
"Typically stylish but deceptively thoughtful, The Grand Budapest Hotel finds Wes Anderson once again using ornate visual environments to explore deeply emotional ideas"
Tampa Bay Times
Steve Persall
 
The Grand Budapest Hotel is as artistically manicured as any of his seven previous movies, and richer comically and emotionally than most. 
 
New Orleans Times-Picayune
Mike Scott
 
There are moments of depth there as well, as Anderson touches on themes of friendship and loyalty. More than anything else, though, The Grand Budapest Hotel is just a fun ride -- a wild, wonderful ride seemingly plucked out of Anderson's dream journal. 
 
St. Louis Post-Dispatch
Joe Williams
 
After feeding on this sweet buffet, sated cinephiles will want to call the front desk to extend their stay. 
 
Philadelphia Inquirer
Steven Rea
Sustaining illusion with marvelous grace is, in a nutshell, exactly what Anderson is all about. 
 
Chicago Sun-Times
Bruce Ingram
It's quintessential Anderson... but also an unabashed entertainment. And that's something to see.
 
Austin Chronicle
Kimberley Jones
The Grand Budapest Hotel is nothing short of an enchantment. 
 
RogerEbert.com
Glenn Kenny
Anderson the illusion-maker is more than graceful, he's dazzling, and with this movie he's created an art-refuge that consoles and commiserates. It's an illusion, but it's not a lie. 
 
Los Angeles Times
Kenneth Turan
The writer-director's familiar style blends with a group of unexpected factors to create a magnificently cockeyed entertainment. 
 
The New York Times
A.O. Scott
The Grand Budapest Hotel, Mr. Anderson's eighth feature, will delight his fans, but even those inclined to grumble that it's just more of the same patented whimsy might want to look again. As a sometime grumbler and longtime fan, I found myself not only charmed and touched but also moved to a new level of respect. 
 
The Telegraph
Tim Robey
It's wonderful. 
 
Variety
Justin Chang
A captivating 1930s-set caper whose innumerable surface pleasures might just seduce you into overlooking its sly intelligence and depth of feeling.
Admission Prices*:
General: $10.00
Seniors, Students and Active Military: $9.00
Members: $8.00
Children 12 and under: $7.00
Bargain Matinee Prices (all shows before 6:00pm)
General: $8.00
Members: $6.00
Children 12 and under: $5.00
Add $2.00 to the above prices for 3D screenings.
 
Your membership with the Lincoln Theatre saves you $2.00 per film ticket.
 
*All prices include a $1.50 Preservation Fee that goes directly into our capital account for preservation of the Lincoln Theatre and its programs. Film tickets are only available at the door beginning 45 minutes before the first screening of the day. This saves you, the ticket buyer the fees associated with purchasing online. Never fear – there are plenty of seats!
 
Monday film screenings are part of the Lincoln Theatre Member Mondays! Click here for details.
 
Film dates and times are subject to change and extended runs. Please check back here, or our phone message at 360.336.8955, day of show.