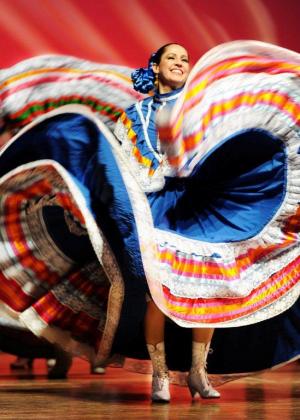 Saturday, June 7, 2014 - 7:00pm
$14 for Adults: $10 for students and children with $2 off for Lincoln Theatre members
The Historic Lincoln Theatre presents Bailadores de Bronce for an evening celebrating the culture of Mexican Folkloric dancing and choreography.
 
The dedication of the dancers is seen during performances in their intricate footwork and refined choreography. The richness of  the culture can be seen in the beautiful costumes from the various regions of Mexico. The high energy and enthusiasm of the dancers transcends the stage and is felt by the audience at each performance.
Bailadores de Bronce portrays the positive aspects of the Mexican culture in the broader community, breaking down cultural barriers and building bridges within the community.
 
In 1972, a group of students at the University of Washington, led by Josefina Jaramillo Alvarez, united in a common goal to demonstrate their pride in their Mexican heritage through music and dance.  They questioned the lack of a Mexican dance group at the UW.  In many ways it was a product of the Civil Rights and Chicano movements. 
 
The group's first official director was Elma Gonzalez Radke.  Under her direction the small but dedicated group hosted the 1977 National Conference for ANGF, the Asociación Nacional de Grupos Folklóricos.  In 1975 Cecilia Ortiz Boyer and her brother Alberto Ortiz joined the group, and the legacy that is Bailadores de Bronce found its heart and soul.  Cecilia would dance in the group for 25 years.  During her 18 years as director, she would inspire generations of dancers to take to the stage and share their cultural pride.  The group was chosen as the representative of the Washington State Hispanic community in the 1986 World's Fair in Vancouver, B.C.
 
In 1998, Cece invited Carlos Alaniz to become her co-director.  After nine years as a dancer, he became the director in 2000.  Under his leadership, the group returned to its roots at the University of Washington to practice at the Ethnic Cultural Center and to peform for the first time at Meany Hall in 2007 for its 35th Anniversary.  The venue was filled to capacity.  Carlos handed the group's direction over to Julian Pérez and Jessica Bravo-Rohwer in 2010 and they led the group to it's 40th Anniversary sold-out show at Meany in 2012 and solidified its reputation as the premier Ballet Folklorico group in the Northwest.
All dancers, instructors and the Board of Directors volunteer their time, energy and efforts to ensure that Bailadores de Bronce continues to thrive.  We always remember that it is the dancers themselves, with their dedication and love of their culture and of each other as a family, who are the glue that keeps Bailadores de Bronce together.
 
The evening features David Rodriguez as MC and his Westview Elementary students as the opening performers.