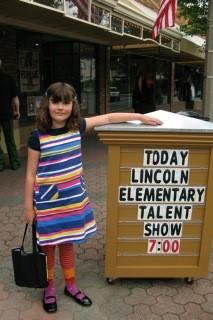 Wednesday, May 28, 2014 - 7:00pm
Lincoln Elementary again brings its talented students downtown to present their annual Talent Show. Students in grades one through six audition to be part of this wonderful community event, with only the best acts accepted. Lincoln Elementary is populated with many talented children, so expect a great show of dance, music, drama and more! And the now notorious teacher's performance is something not to be missed!
 
Admission is free!
 
Lincoln Elementary PTA welcomes donations to defray the costs of the theatre rental for the talent show.  PTA members will be in the lobby to accept your donations during the evening performance.
 
Sixth graders at Lincoln Elementary will be selling baked goods to help fund the building of a new school in India.
 
Thank you for your support!