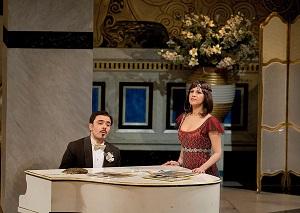 Wednesday, Jun 25, 6:30 pm
The Metropolitan Opera is pleased to offer you the opportunity to participate in Summer Encores – a series of six past Live in HD performances at bargain prices.
 
Puccini's La Rondine (originally transmitted January 10, 2009)
 
Puccini's achingly beautiful score charmingly conveys the plight of Magda (the "swallow" of the title), who unexpectedly finds true love with the handsome young Ruggero. But their idyllic life comes to a premature end as she is haunted by the fear that her checkered past will ruin his future. Opera stars Angela Gheorghiu and Roberto Alagna portray Puccini's star-crossed lovers. Nicholas Joël's production features elegant and sophisticated art-deco sets that contribute to the dazzling stage picture.
 
Lower ticket prices in the summer! Tickets (available in advance): $15 adults, $13 seniors, $11 students, with $2 off for Lincoln Theatre Members. A great time for audiences of all ages and first-time opera-goers to attend.