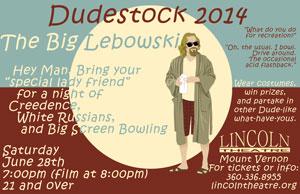 Saturday, Jun 28, 7:00 pm
Our fourth annual Dudestock party, sponsored by Riverside Lanes and ChemDry of Mount Vernon returns to the Lincoln on Saturday, June 28th!
Dudestock celebrates all things related to the 1998 cult favorite The Big Lebowski. Fans of the film (aka "Achievers") come from far and wide to drink White Russians, listen to Creedence and party with an array of Dudes, Walters and Maudes (not to mention a nihilist or two). Prizes will be awarded for best costume in several categories. Come in your bathrobe if you like! Arrive early (doors at 7pm, film at 8pm) for Leisure Game competitions and Big Screen Bowling. And keep your eye out for a unique way to win a comfy couch seat in the theatre for the show!
 "Dude" Lebowski, mistaken for a millionaire Lebowski, seeks restitution for his ruined rug and enlists his bowling buddies to help get it. Come for the party-like atmosphere and enjoy Jeff Bridges in one of his most quirky roles.
If you'd like to enjoy your White Russian or other cold beverage while partaking in the film, no problemo! this film is a 21+ event. 
Meet Mike Coslor, the artist (and past winner of "most righteous dude-like person in the Northwest"), for a reception in our Art Bar from 5:00 - 7:00pm.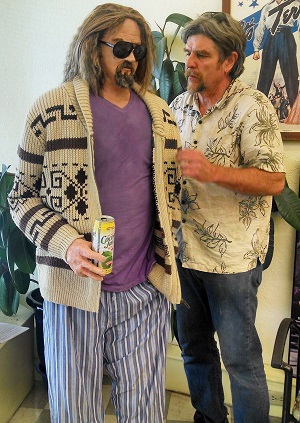 Tickets: 10 in advance, $12 at the door. Members, as usual, get a $2 discount!
'Everybody that has been around knows a dude.... and the dude abides.'