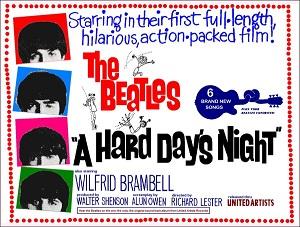 "It was 50 years ago today...": that's both a misquote and a reference to the wrong album, but never mind, because listen up. This summer will mark half a century since the release of A Hard Day's Night, The Beatles' first feature film and one of the most important pieces of musical cinema ever made. As well as an endlessly inventive and fun film, in which a huge amount if mileage is got out of the simple fact that it's The Beatles playing themselves, it's also a very modern-feeling movie, even 50 years on.
Nowadays, the only musical feature films we get following real-life bands are straight-up concert documentaries focusing on a chart-topping singer's tour with performances and behind-the-scenes footage and interviews. But decades ago, bands used to star in their own silly stories, highlighting their albums for people to enjoy on the big screen. Such is the case with A Hard Day's Night, inspired by the album and single of the same name by the iconic British rock band The Beatles. This year marks the 50th anniversary of the musically infused innovative comedy featuring John, Paul, George and Ringo playing wacky versions of themselves, and they'll be back in theaters for a special re-release this summer.
Meet the Beatles! Just one month after they exploded onto the U.S. scene with their Ed Sullivan Show appearance, John, Paul, George, and Ringo began working on a project that would bring their revolutionary talent to the big screen: A Hard Day's Night, in which the bandmates play slapstick versions of themselves. Directed with raucous, anything-goes verve by Richard Lester and featuring a slew of iconic pop anthems, including the title track along with Can't Buy Me Love, and much more.
Originally released in 1964, the film is returning to theaters, including the Lincoln, for its 50th anniversary in the heart of summer on July 4th for a limited time.
Director:  Richard Lester
Starring:  George Harrison, John Lennon, Paul McCartney, Ringo Starr
What the critics are saying:
Certified Fresh on Rotten Tomatoes
"A Hard Day's Night, despite its age, is still a delight to watch and has proven itself to be a rock-and-roll movie classic."
Slate
David Edelstein
Watching the opening of A Hard Day's Night is like getting a direct injection of happiness
Baltimore Sun
Chris Kaltenbach
A non-stop cinematic funhouse impossible to resist. 
Entertainment Weekly
Owen Gleiberman
They're like gods at play, paragons of pure delight, as they mock and feign their way through a universe of mere mortals. To see the movie again is to realize that they were never entirely of this earth and that they never will be. 
Salon.com
Stephanie Zacharek
It's 85 minutes of screen time that represents one crystallized moment not in the Beatles' career per se but in the parallel career they forged inside all of us, the one that will last beyond any breakup, retirement or death. 
Film.com
Robert Horton
Conveys not just a joy in music and The Beatles, but a joy in cinema. 
Los Angeles Times
Kenneth Turan
It enables us to recapture exactly the delightful sensations felt all those years ago when we and the world were young and exciting together.
Chicago Sun-Times
Roger Ebert
No movie has had a greater impact on the way people looked. The music of course is immortal.
 
Chicago Tribune
Michael Wilmington
One of the most excitingly contemporary musicals ever made. 
Miami Herald
Howard Cohen
Lester managed to come up with a movie that not only holds together as a film but one that has proven timeless and rewards repeat viewings. 
New York Daily News
Jack Mathews
As joyously energetic now as the day it arrived.  
 
New York Post
Lou Lumenick
Bursting with energy and originality even after 36 years, A Hard Day's Night is easily the best show in town.  
 
Admission Prices*:
General: $10.00
Seniors, Students and Active Military: $9.00
Members: $8.00
Children 12 and under: $7.00
Bargain Matinee Prices (all shows before 6:00pm)
General: $8.00
Members: $6.00
Children 12 and under: $5.00
Add $2.00 to the above prices for 3D screenings.
 
Your membership with the Lincoln Theatre saves you $2.00 per film ticket.
 
*All prices include a $1.50 Preservation Fee that goes directly into our capital account for preservation of the Lincoln Theatre and its programs. Film tickets are only available at the door beginning 45 minutes before the first screening of the day. This saves you, the ticket buyer the fees associated with purchasing online. Never fear – there are plenty of seats!
 
Monday film screenings are part of the Lincoln Theatre Member Mondays! Click here for details.
 
Film dates and times are subject to change and extended runs. Please check back here, or our phone message at 360.336.8955, day of show.