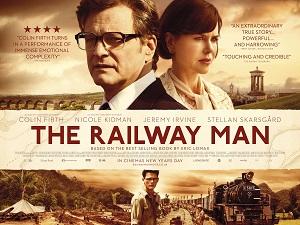 Saturday, Jun 21, 7:30 pm
Based on the remarkable bestselling autobiography, The Railway Man tells the extraordinary and epic true story of Eric Lomax (Colin Firth), a British Army officer who is tormented as a prisoner of war at a Japanese labor camp during World War II. Decades later, Lomax and his beautiful love interest Patti (Nicole Kidman) discover that the Japanese interpreter responsible for much of his treatment is still alive and set out to confront him, and his haunting past, in this powerful and inspiring  tale of heroism, humanity and the redeeming power of love.
 
Director: Jonathan Teplitzky
Starring: Colin Firth, Nicole Kidman, Hiroyuki Sanada, Jeremy Irvine, and Stellan Skarsgård 
What the critics are saying:
 
Certified Fresh on Rotten Tomatoes
 
"Understated to a fault, The Railway Man transcends its occasionally stodgy pacing with a touching, fact-based story and the quiet chemistry of its stars."
 
New York Observer
Rex Reed
Wrenching, profound and beautifully made, The Railway Man is one of the stunning don't-miss surprises of the still-young 2014. 
 
Los Angeles Times
Gary Goldstein
The Railway Man is an impressively crafted, skillfully acted, highly absorbing journey into a dark corner of world history. 
 
Arizona Republic
Randy Cordova
The movie boasts a tricky structure, but director Jonathan Teplitzky ("Burning Man") does an expert job of sewing together the World War II moments with sequences set in the '80s. 
 
The Guardian
Catherine Shoard
From time to time, the script contextualises a little clumsily...but the playing and pacing are terrific.
 
San Francisco Chronicle
Peter Hartlaub
For such a torment-filled story, the ending is surprisingly satisfying, with an important message that a lesser filmmaker might have telegraphed too much.
 
Admission Prices*:
General: $10.00
Seniors, Students and Active Military: $9.00
Members: $8.00
Children 12 and under: $7.00
Bargain Matinee Prices (all shows before 6:00pm)
General: $8.00
Members: $6.00
Children 12 and under: $5.00
Add $2.00 to the above prices for 3D screenings.
 
Your membership with the Lincoln Theatre saves you $2.00 per film ticket.
 
*All prices include a $1.50 Preservation Fee that goes directly into our capital account for preservation of the Lincoln Theatre and its programs. Film tickets are only available at the door beginning 45 minutes before the first screening of the day. This saves you, the ticket buyer the fees associated with purchasing online. Never fear – there are plenty of seats!
 
Monday film screenings are part of the Lincoln Theatre Member Mondays! Click here for details.
 
Film dates and times are subject to change and extended runs. Please check back here, or our phone message at 360.336.8955, day of show.