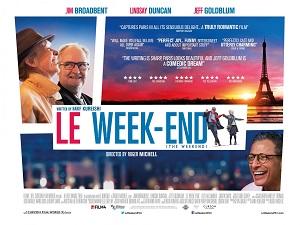 Saturday, Jun 28, 3:00 pm
In Roger Michell's magically buoyant and bittersweet film, Jim Broadbent and Lindsay Duncan play a long-married couple who revisit Paris for a long weekend for the first time since their honeymoon, in hopes of rekindling their relationship-or, perhaps, to bring it to an end. Diffident, wistful Nick (Broadbent) and demanding, take-charge Meg (Duncan) careen from harmony to disharmony to resignation and back again as they take stock and grapple with love, loss, regret and, disappointment, in their  own very English way. When Meg and Nick run into their insufferably successful old friend Morgan, an American academic superstar with a fancy Parisian address played with pure delight by Jeff Goldblum, their squabbles rise to a register that's both emotionally rich and very funny.
 
Director:  Roger Michell
Starring: Jim Broadbent, Lindsay Duncan and Jeff Goldblum
 
What the critics are saying:
 
Certified Fresh on Rotten Tomatoes
 
"Topped with bittersweet humor but possessing surprisingly thorny depths, Le Week-End offers a sophisticated, well-acted portrait of late-life struggles and long-term marriage."
 
New York Observer
Rex Reed
They are two intelligent, sophisticated people searching for the spicy condiment they need to keep their relationship fresh during a bittersweet weekend in Paris, and, like the film that frames them, they are smart, substantial and enchanting. 
 
The Playlist
Gabe Toro
Michell's handling of the relationship between the two is touching in how little judgment he passes. 
 
 
Washington Post
Ann Hornaday
In the capable hands of these fine filmmakers and actors, even its most bitter observations about life and aging are nearly always reliably balanced by moments of warmth, understanding and out-and-out screwball humor. 
 
 
RogerEbert.com
Susan Wloszczyna
When Michell is on his game, as he definitely is with Le Week-End, he unearths small, invaluable and even profound truths about the human condition that are often as inspiring as they are devastating. 
 
New York Post
Lou Lumenick
Jim Broadbent and Lindsay Duncan are superb as the couple, who use the occasion to drop bombs on each other. 
 
Arizona Republic
Bill Goodykoontz
Director Roger Michell ("Notting Hill") has the good sense to step back and let Broadbent and Duncan work their magic on Hanif Kureishi's script. They don't disappoint
 
Admission Prices*:
General: $10.00
Seniors, Students and Active Military: $9.00
Members: $8.00
Children 12 and under: $7.00
Bargain Matinee Prices (all shows before 6:00pm)
General: $8.00
Members: $6.00
Children 12 and under: $5.00
Add $2.00 to the above prices for 3D screenings.
 
Your membership with the Lincoln Theatre saves you $2.00 per film ticket.
 
*All prices include a $1.50 Preservation Fee that goes directly into our capital account for preservation of the Lincoln Theatre and its programs. Film tickets are only available at the door beginning 45 minutes before the first screening of the day. This saves you, the ticket buyer the fees associated with purchasing online. Never fear – there are plenty of seats!
 
Monday film screenings are part of the Lincoln Theatre Member Mondays! Click here for details.
 
Film dates and times are subject to change and extended runs. Please check back here, or our phone message at 360.336.8955, day of show.