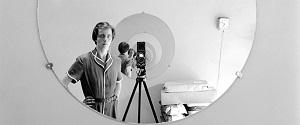 Wednesday, Jun 11, 7:30 pm
Who is Vivian Maier? Now considered one of the 20th century's greatest street photographers, Vivian Maier was a mysterious nanny who secretly took over 100,000 photographs that went unseen during her lifetime. Since buying her work by chance at auction, amateur historian John Maloof has crusaded to put this prolific photographer in the history books. Maier's strange and riveting life and art are revealed through never-before-seen photographs, films, and interviews with dozens who thought they knew her.
 
We really wanted to host this much requested film so we've squeezed it in between some busy end-of-year school events. We hope you can make it to one of the non-standard screening times. If it works for this film maybe we can fit in some other requested titles that we normally couldn't screen.
 
Director:  Charlie Siskel
 What the critics are saying:
Certified Fresh on Rotten Tomatoes (97%)
"Narratively gripping, visually striking, and ultimately thought-provoking, Finding Vivian Maier shines an overdue spotlight on its subject's long-hidden brilliance."
 
Christian Science Monitor
Peter Rainer
Maier is a great artist who discounted adulation entirely. Her life was a masquerade; her genius, quite literally, was unexposed. 
All this critic's reviews
Read full review
 
Entertainment Weekly
Chris Nashawaty
More connect-the-dots detective thriller than traditional doc, John Maloof and Charlie Siskel's revelatory riddle of a film unmasks a brilliant photographer who hid in plain sight for decades working as an eccentric French nanny. 
 
St. Louis Post-Dispatch
Joe Williams
One part personal mystery and one part art-appreciation class. 
 
Chicago Sun-Times
Mary Houlihan
It's a big puzzle that the filmmakers piece together in an intriguing and e
 
Admission Prices*:
General: $10.00
Seniors, Students and Active Military: $9.00
Members: $8.00
Children 12 and under: $7.00
Bargain Matinee Prices (all shows before 6:00pm)
General: $8.00
Members: $6.00
Children 12 and under: $5.00
Add $2.00 to the above prices for 3D screenings.
 
Your membership with the Lincoln Theatre saves you $2.00 per film ticket.
 
*All prices include a $1.50 Preservation Fee that goes directly into our capital account for preservation of the Lincoln Theatre and its programs. Film tickets are only available at the door beginning 45 minutes before the first screening of the day. This saves you, the ticket buyer the fees associated with purchasing online. Never fear – there are plenty of seats!
 
Monday film screenings are part of the Lincoln Theatre Member Mondays! Click here for details.
 
Film dates and times are subject to change and extended runs. Please check back here, or our phone message at 360.336.8955, day of show.