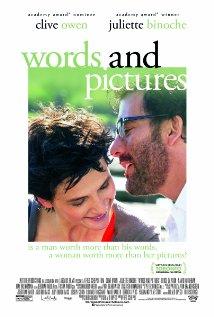 Prep school English teacher Jack Marcus (Clive Owen) laments his students' obsession with social media and good grades rather than engaging with the power of the written word. A one-time literary star, Jack has not published in years filling his spare time with drink versus the art of language. He meets his match in Dina Delsanto (Juliette Binoche)—an abstract painter and new teacher on campus, who was once celebrated for her art. From the start, the two flirt and provoke each other with equal relish. With a performance review looming and his teaching job on the line, Jack hatches an inspired plan for galvanizing student interest in their studies: he declares a war between Words and Pictures, confident that the former can convey greater meaning than the latter. Dina and her art students accept the challenge between Jack and his English students, and the battle lines are drawn.
 
Director:  Fred Schepisi
Starring: Clive Owen, Juliette Binoche, Amy Brenneman, Bruce Davison,
 
What the critics are saying:
 
USA Today
Claudia Puig
A thoughtful film about ideas — creativity, the power of language and the eloquence of visuals — it features two impeccable performances full of vitality. 
 
The New York Times
Stephen Holden
The performances by Mr. Owen and Ms. Binoche have a crackling vitality, and the screenplay's strongest moments set off the kind of trains of thought that dedicated teachers hope to spur in their students.
 
Admission Prices*:
General: $10.00
Seniors, Students and Active Military: $9.00
Members: $8.00
Children 12 and under: $7.00
Bargain Matinee Prices (all shows before 6:00pm)
General: $8.00
Members: $6.00
Children 12 and under: $5.00
Add $2.00 to the above prices for 3D screenings.
 
Your membership with the Lincoln Theatre saves you $2.00 per film ticket.
 
*All prices include a $1.50 Preservation Fee that goes directly into our capital account for preservation of the Lincoln Theatre and its programs. Film tickets are only available at the door beginning 45 minutes before the first screening of the day. This saves you, the ticket buyer the fees associated with purchasing online. Never fear – there are plenty of seats!
 
Monday film screenings are part of the Lincoln Theatre Member Mondays! Click here for details.
 
Film dates and times are subject to change and extended runs. Please check back here, or our phone message at 360.336.8955, day of show.