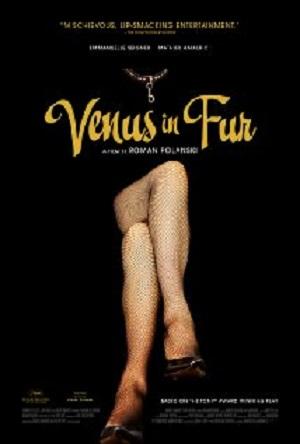 Saturday, Aug 16, 7:30 pm
Alone in a Paris theater after a long day of auditioning actresses for his new play, writer-director Thomas (Mathieu Amalric) complains that no actress he's seen has what it takes to play the lead female character: a woman who enters into an agreement with her male counterpart to dominate him as her slave. Thomas is about to leave the theater when actress Vanda (Emmanuelle Seigner) bursts in, a whirlwind of erratic - and, it turns out, erotic - energy. At first she seems to embody everything Thomas has been lamenting. She is pushy, foul-mouthed, desperate and ill-prepared - or so it seems. When Thomas finally, reluctantly, agrees to let her try out for the part, he is stunned and captivated by her transformation. Not only is Vanda a perfect fit (even sharing the character's name), but she apparently has researched the role exhaustively, learned her lines by heart and even brought her own props. The likeness proves to be much more than skin-deep. As the extended "audition" builds momentum, Thomas moves from attraction to obsession until, with Vanda taking an ever more dominant role, the balance of power shifts completely.
Director:  Roman Polanski
Starring: Emmanuelle Seigner, Mathieu Amalric
 
In French with English subtitles.
 
What the critics are saying:
 
Certified Fresh on Rotten Tomatoes!
 
"Provocative, funny, and brilliantly acted, Venus in Fur finds Roman Polanski in top late-period form."
Philadelphia Inquirer
Steven Rea
Wickedly smart and wickedly playful, Roman Polanski's adaptation of David Ives' Tony-nominated Venus in Fur works on so many levels, it's almost dizzying. 
 
Los Angeles Times
Betsy Sharkey
It is a caustic, comic, cerebral romp for a long time before it hits you with its best shot — some Polanski-worthy darkness. 
 
Village Voice
Stephanie Zacharek
Polanski orchestrates this cat-and-mouse game with devilish delight, dancing around Ives's play as if it were a pagan bonfire, jabbing at it with his figurative pitchfork. 
 
New York Magazine (Vulture)
David Edelstein
Venus in Fur is both kinky and can pass as a form of self-flagellation. One additional, not-small thing: It allows him to demonstrate, with a minimum of means, his superb craftsmanship. 
 
Slate
Dana Stevens
Above all else, Venus in Fur is a sharp, sexy comedy (adapted by Ives and Polanski from a translation by Abel Gerschenfeld) performed by two superb and superbly in-tune actors, and directed with a sure hand by a filmmaker who's clearly not cowed by the challenge of blowing up a two-person chamber piece for the screen.
 
Admission Prices*:
General: $10.00
Seniors, Students and Active Military: $9.00
Members: $8.00
Children 12 and under: $7.00
Bargain Matinee Prices (all shows before 6:00pm)
General: $8.00
Members: $6.00
Children 12 and under: $5.00
Add $2.00 to the above prices for 3D screenings.
 
Your membership with the Lincoln Theatre saves you $2.00 per film ticket.
 
*All prices include a $1.50 Preservation Fee that goes directly into our capital account for preservation of the Lincoln Theatre and its programs. Film tickets are only available at the door beginning 45 minutes before the first screening of the day. This saves you, the ticket buyer the fees associated with purchasing online. Never fear – there are plenty of seats!
 
Monday film screenings are part of the Lincoln Theatre Member Mondays! Click here for details.
 
Film dates and times are subject to change and extended runs. Please check back here, or our phone message at 360.336.8955, day of show.