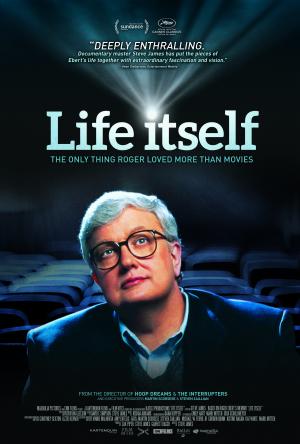 Saturday, Aug 30, 7:30 pm
In 2013, we lost Roger Ebert—arguably the nation's best-known and most influential movie critic. Based on his memoir of the same name, Life Itself recounts Ebert's fascinating and flawed journey—from politicized school newspaperman, to Chicago Sun-Times movie critic, to Pulitzer Prize winner, to television household name, to the miracle of finding love at 50, and finally his "third act" as a major voice on the Internet when he could no longer physically speak.
 
Director:  Steve James
Starring: Chaz Ebert, Errol Morris, Gene Siskel, Martin Scorsese, Roger Ebert, Werner Herzog
 
What the critics are saying:
 
Certified Fresh on Rotten Tomatoes
"Rich in detail and warmly affectionate, Life Itself offers a joyful yet poignant tribute to a critical cinematic legacy."
New Orleans Times-Picayune
Mike Scott
Chaz Ebert says that Roger would have loved Life Itself. I'll take her word for it. She knew him far better than I did. Clearly. But I'll add this: I love it, too
 
The New York Times
Geoffrey O'Brien
Life Itself is a work of deftness and delicacy, by turns a film about illness and death, about writing, about cinema and, finally, and very movingly a film about love
 
Portland Oregonian
Mark Mohan
Anyone who shares Ebert's love of movies and who followed his career will be exceptionally moved by Life Itself, but anyone who appreciates a well-lived life should be touched as well. 
 
Variety
Scott Foundas
James cuts — as in all of his best work — straight to the human heart of the matter, celebrating both the writer and the man, the one inseparable from the other, largely in Ebert's own words.
 
 
Admission Prices*:
General: $10.00
Seniors, Students and Active Military: $9.00
Members: $8.00
Children 12 and under: $7.00
Bargain Matinee Prices (all shows before 6:00pm)
General: $8.00
Members: $6.00
Children 12 and under: $5.00
Add $2.00 to the above prices for 3D screenings.
 
Your membership with the Lincoln Theatre saves you $2.00 per film ticket.
 
*All prices include a $1.50 Preservation Fee that goes directly into our capital account for preservation of the Lincoln Theatre and its programs. Film tickets are only available at the door beginning 45 minutes before the first screening of the day. This saves you, the ticket buyer the fees associated with purchasing online. Never fear – there are plenty of seats!
 
Monday film screenings are part of the Lincoln Theatre Member Mondays! Click here for details.
 
Film dates and times are subject to change and extended runs. Please check back here, or our phone message at 360.336.8955, day of show.