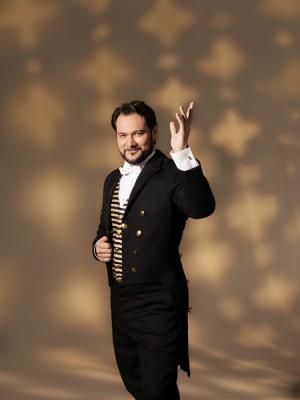 Saturday, Oct 18, 9:55 am
Approximate HD runtime 3:52
Wolfgang Amadeus Mozart
Le Nozze di Figaro
(The Marriage of Figaro)
 
Met Music Director James Levine conducts a spirited new production of Mozart's masterpiece, directed by Richard Eyre, who sets the action of this classic domestic comedy in a 19th-century manor house in Seville, but during the gilded age of the late 1920s. Dashing bass-baritone Ildar Abdrazakov leads the cast in the title role of the clever servant, opposite Marlis Petersen as his bride, Susanna, Peter Mattei as the philandering Count they work for, Marina Poplavskaya as the long-suffering Countess, and Isabel Leonard as the libidinous pageboy Cherubino.  
                     .
 
The wonderful Stassya Pacheco returns for a pre-opera lecture prior to every Saturday live transmission, 30 minutes before the start time.  Also, Saturday operas offer the option of pre-ordering your lunch from The Lunch Box.  Pre-order lunches are made up during the opera and ready for you to enjoy during the intermission. We will also have recorded encore screenings of all performances.
 
Tickets: $23 adults; $19 seniors; $16 students with $2 off for Lincoln Theatre Members. Discounted Season Passes available!
 
Tickets go on sale to MET members on August 15th and to the general public August 22.