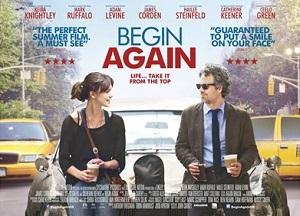 Gretta (Keira Knightley) and her long-time boyfriend Dave (Adam Levine) are college sweethearts and songwriting partners who decamp for New York when he lands a deal with a major label. But the trappings of his new-found fame soon tempt Dave to stray, and a reeling, lovelorn Gretta is left on her own. Her world takes a turn for the better when Dan (Mark Ruffalo), a disgraced record-label exec, stumbles upon her performing on an East Village stage and is immediately captivated by her raw talent. From this chance encounter emerges an enchanting portrait of a mutually transformative collaboration, set to the soundtrack of a summer in New York City.
 
Director:  John Carney
Starring: Keira Knightley, Adam Levine, Hailee Steinfeld and Mark Ruffalo
 
What the critics are saying:
 
Certified Fresh on Rotten Tomatoes
"Writer-director John Carney's return to musical drama isn't quite as potent as it was with Once, but thanks to charming work from its well-matched leads, Begin Again is difficult to resist."
HitFix
Drew McWeeny
John Carney, who wrote and directed "Once," has made another great film that focuses on songwriters and the way their lives influence their work.
 
New Orleans Times-Picayune
Mike Scott
The sum total is a film with great music, a great story and a great vibe in general -- not to mention those Carney-crafted moments, built around joy, possibility and self-transformation. In other words: Carney has given us another pearl.
 
Empire
Ian Freer
Begin Again is a joyous movie about the good things in life: love, family, relationships, New York, creativity and music. And Knightley and Ruffalo make for one of the most unusual engaging couples of the year 
 
St. Louis Post-Dispatch
Joe Williams
Begin Again is one of the best movies I've seen about the music industry and the ways it changes people whose paths diverge.
 
Admission Prices*:
General: $10.00
Seniors, Students and Active Military: $9.00
Members: $8.00
Children 12 and under: $7.00
Bargain Matinee Prices (all shows before 6:00pm)
General: $8.00
Members: $6.00
Children 12 and under: $5.00
Add $2.00 to the above prices for 3D screenings.
 
Your membership with the Lincoln Theatre saves you $2.00 per film ticket.
 
*All prices include a $1.50 Preservation Fee that goes directly into our capital account for preservation of the Lincoln Theatre and its programs. Film tickets are only available at the door beginning 45 minutes before the first screening of the day. This saves you, the ticket buyer the fees associated with purchasing online. Never fear – there are plenty of seats!
 
Monday film screenings are part of the Lincoln Theatre Member Mondays! Click here for details.
 
Film dates and times are subject to change and extended runs. Please check back here, or our phone message at 360.336.8955, day of show.