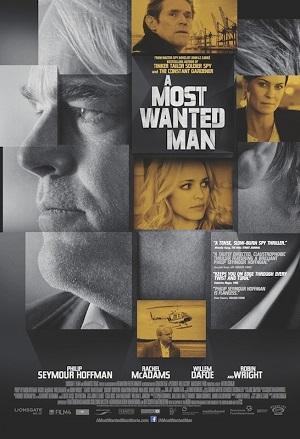 Thursday, Sep 18, 7:30 pm
Saturday, Sep 20, 7:30 pm
It's a pleasure to see Philip Seymour Hoffman, the exceptional actor who we lost earlier this year, at work in his final completed film. When a half-Chechen, half-Russian immigrant turns up in Hamburg's Islamic community, laying claim to his father's ill-gotten fortune, both German and US security agencies take a close interest: as the clock ticks down and the stakes rise, the race is on to establish this most wanted man's true identity - oppressed victim or destruction-bent extremist? Hoffman inhabits the role of Guinther Bachmann, the defiantly old-school German spy tracking the movements of the suspected Muslin terrorist. This is our last chance to say goodbye to one of the greats.
 
Director:  Anton Corbijn
 
Starring: Philip Seymour Hoffman and Daniel Brühl 
 
Members attending the annual membership meeting on Thursday, September 18 at 6:30pm are invited to stay for the screening free of charge.
 
What the critics are saying:
 
Certified Fresh on Rotten Tomatoes
 
"Smart, subtle, and steadily absorbing, A Most Wanted Man proves once again that John le Carre books make for sharp, thoughtful thrillers."
 
Los Angeles Times
Kenneth Turan
 
[A] crackerjack thriller, at once brooding, claustrophobic and unbearably tense.
 
Chicago Sun-Times
Richard Roeper
 
A Most Wanted Man works as a crowd-pleaser and as a believable reflection of how these fictional events might well play out in the real world.
 
Washington Post
Michael O'Sullivan
 
Although the cast is uniformly fine, Hoffman shines in a role that demands not showmanship, but a kind of complexity and contradiction that can be rendered only through the kind of dull character details that he excelled in, accumulating them from the inside out.
 
Village Voice
Alan Scherstuhl
 
A Most Wanted Man is simply a complex tale superbly told, with time for nuance and to soak in its mysteries.
 
Rolling Stone
Peter Travers
 
Every move Hoffman makes subtly rivets attention. There's the uncanny German accent, the boozing, the chain-smoking, the glances at his assistant (Nina Hoss), the secret life he keeps hidden and the betrayals even Günther can't see coming. Hoffman is simply magnificent. Face it. We won't see his like again. 
 
Admission Prices*:
General: $10.00
Seniors, Students and Active Military: $9.00
Members: $8.00
Children 12 and under: $7.00
Bargain Matinee Prices (all shows before 6:00pm)
General: $8.00
Members: $6.00
Children 12 and under: $5.00
Add $2.00 to the above prices for 3D screenings.
 
Your membership with the Lincoln Theatre saves you $2.00 per film ticket.
 
*All prices include a $1.50 Preservation Fee that goes directly into our capital account for preservation of the Lincoln Theatre and its programs. Film tickets are only available at the door beginning 45 minutes before the first screening of the day. This saves you, the ticket buyer the fees associated with purchasing online. Never fear – there are plenty of seats!
 
Monday film screenings are part of the Lincoln Theatre Member Mondays! Click here for details.
 
Film dates and times are subject to change and extended runs. Please check back here, or our phone message at 360.336.8955, day of show.