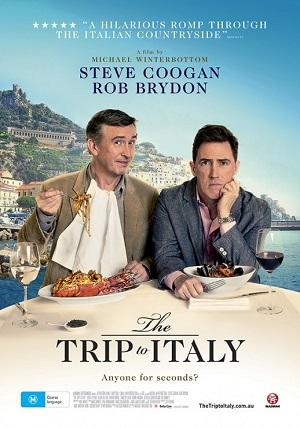 Saturday, Sep 27, 7:30 pm
A sequel to one my favorite films, 2010's THE TRIP, Steve Coogan and Rob Brydon reunite for a new culinary road trip, THE TRIP TO ITALY, retracing the steps of the Romantic poets' grand tour of Italy and indulging in some sparkling banter and impersonation-offs. Rewhetting our palates from the earlier film, the characters enjoy mouthwatering meals in gorgeous settings from Liguria to Capri while riffing on subjects as varied as Batman's vocal register, the artistic merits of "Jagged Little Pill," and, of course, the virtue of sequels.
 
Director:  Michael Winterbottom
 
Starring: Steve Coogan, Rob Brydon, Claire Keelan, Marta Barrio and Rosie Fellner 
 
What the critics are saying:
 
Certified Fresh on Rotten Tomatoes
 
The Playlist
Nikola Grozdanovic
 
By the time the curtains draw to a bittersweet close, you'll walk out feeling rejuvenated, satisfied, well replenished in humor and culture, and already planning your own trip to Italy.
 
Los Angeles Times
Betsy Sharkey
 
Brydon and Coogan's discourse over breakfast, lunch and dinner is captured with a casualness that makes the eavesdropping delicious.
 
The Hollywood Reporter
John DeFore
 
As funny as the first go-round, more beautiful to look at, and better conceived.
 
St. Louis Post-Dispatch
Joe Williams
 
He's like a globe-trotting Richard Linklater. And with Winterbottom's first-ever sequel, his "Trip" films now rival Linklater's "Before" series in charting how a twosome evolves over time. Plus, they're bloody hilarious.
 
RogerEbert.com
Glenn Kenny
 
If you go in for allusive British humor that builds slowly from dry to uproarious, as executed by two absolute masters of the form, The Trip To Italy will work for you, I believe. I also think the film, directed, like the prior one, by the astute Michael Winterbottom, is a somewhat smoother trip than the first. 
 
Admission Prices*:
General: $10.00
Seniors, Students and Active Military: $9.00
Members: $8.00
Children 12 and under: $7.00
Bargain Matinee Prices (all shows before 6:00pm)
General: $8.00
Members: $6.00
Children 12 and under: $5.00
Add $2.00 to the above prices for 3D screenings.
 
Your membership with the Lincoln Theatre saves you $2.00 per film ticket.
 
*All prices include a $1.50 Preservation Fee that goes directly into our capital account for preservation of the Lincoln Theatre and its programs. Film tickets are only available at the door beginning 45 minutes before the first screening of the day. This saves you, the ticket buyer the fees associated with purchasing online. Never fear – there are plenty of seats!
 
Monday film screenings are part of the Lincoln Theatre Member Mondays! Click here for details.
 
Film dates and times are subject to change and extended runs. Please check back here, or our phone message at 360.336.8955, day of show.