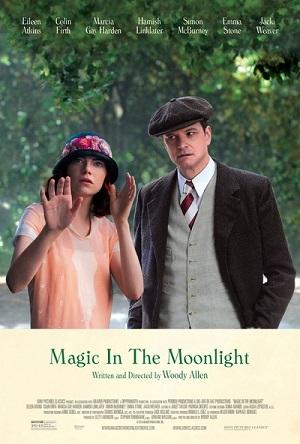 Chinese conjuror Wei Ling Soo is the most celebrated magician of his age, but few know that he is the stage persona of Stanley Crawford (Colin Firth), a grouchy and arrogant Englishman with a sky-high opinion of himself and an aversion to phony spiritualists' claims. Persuaded by his friend, Howard Burkan (Simon McBurney), Stanley goes on a mission to the Côte d'Azur mansion of the Catledge family: mother Grace (Jacki Weaver), son Brice (Hamish Linklater), and daughter Caroline (Erica Leerhsen).  He presents himself as a businessman named Stanley Taplinger in order to debunk the alluring young clairvoyant Sophie Baker (Emma Stone) who is staying there with her mother (Marcia Gay Harden). Sophie arrived at the Catledge villa at the invitation of Grace, who is convinced that Sophie can help her contact her late husband, and once there, attracted the attention of Brice, who has fallen for her head over heels. What follows is a series of events that are magical in every sense of the word and send the characters reeling. In the end, the biggest trick MAGIC IN THE MOONLIGHT plays is the one that fools us all.
 
Director:  Woody Allen
 
Starring: Colin Firth, Emma Stone, Marcia Gay Harden, Catherine McCormack,  Hamish Linklater and Simon McBurney  
 
What the critics are saying:
New York Observer
Rex Reed
 
A master stroke of enchantment from one of the few legitimate cinematic geniuses of the modern cinema, with a nimble and tender performance of enormous elegance and charm by Colin Firth that is heart-meltingly romantic.
 
Film.com
Jordan Hoffman
 
This picture isn't as showy or obvious as one of his (many) masterpieces, but it is quite good and deserves your time and respect.
 
Wall Street Journal
Joe Morgenstern
 
Ms. Stone is entrancing, whether Sophie is in or out of her trance state, and so is the movie as a whole.
 
Time Out New York
Keith Uhlich
 
The director's latest—a lighthearted romance set in 1920s Germany and France—won't do much to sway proponents or detractors from their own perspectives, though taken at face value, it's one of Allen's most charmingly conceived and performed efforts.
Admission Prices*:
General: $10.00
Seniors, Students and Active Military: $9.00
Members: $8.00
Children 12 and under: $7.00
Bargain Matinee Prices (all shows before 6:00pm)
General: $8.00
Members: $6.00
Children 12 and under: $5.00
Add $2.00 to the above prices for 3D screenings.
 
Your membership with the Lincoln Theatre saves you $2.00 per film ticket.
 
*All prices include a $1.50 Preservation Fee that goes directly into our capital account for preservation of the Lincoln Theatre and its programs. Film tickets are only available at the door beginning 45 minutes before the first screening of the day. This saves you, the ticket buyer the fees associated with purchasing online. Never fear – there are plenty of seats!
 
Monday film screenings are part of the Lincoln Theatre Member Mondays! Click here for details.
 
Film dates and times are subject to change and extended runs. Please check back here, or our phone message at 360.336.8955, day of show.