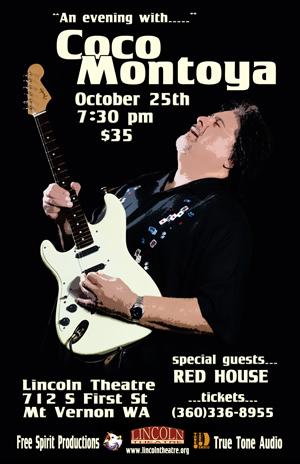 Saturday, October 25, 2014 - 7:30pm
COCO MONTOYA and his band TONIGHT at the LINCOLN - Be there or be square!
Guitar One Magazine calls guitarist/vocalist Coco Montoya "the hottest southpaw in the blues" and raves about his "master touch and killer tone." The Boston Globe succinctly states that Montoya's music is "hot, blistering soul." From his early days as a drummer to his current status as one of the top-drawing guitarists and vocalists on the blues-rock scene, Montoya earned his status through years of hard work and constant touring. It all started with a chance meeting in the mid-1970s with legendary bluesman Albert Collins, who offered Montoya a gig as his drummer. Albert took an immediate liking to Montoya, becoming his mentor and teaching his new protégé the secrets of Collins' "icy hot" style of blues guitar. Five years later, British blues icon John Mayall happened to catch Montoya at a jam session and was blown away. Mayall recruited him as his guitarist in the legendary Bluesbreakers, and Montoya spent the next 10 years touring non-stop, proving himself to be a world-class guitar master in one of the most renowned blues bands in existence. The rest is History!
Montoya is a self taught guitar slinger who plays with an emotional intensity few string benders possess. Playing left-handed and upside down like Albert King, Montoya learned his guitar techniques from his years with Collins. "I never had a lesson in my life. "I would watch other guitar players to catch what they did. I would wait for that one moment when they would do it, and just stare at them and try and remember.
Red House opens the show!
Coco Montoya is presented by Free Spirit Productions and True Tone Audio