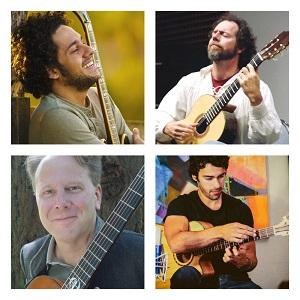 Saturday, February 28, 2015 - 8:00pm
Reserved seating tickets: $32, $29, $26 & $23 with $2 off for Lincoln Theatre Members.
For the January/February 2015 North American tour, IGN founder Brian Gore will be joined by classical innovator and fellow Californian Andrew York; Brazilian jazz master Diego Figueiredo and contemporary Iranian-Canadian steel string prodigy Maneli Jamal. Andrew is a Grammy winner both for his work with the Los Angeles Guitar Quartet and for his own brilliant compositions. Diego is one of the most sought-after jazz artists in the United Sates and around the world, and Maneli has won guitar competitions around the world. We are looking forward to a particularly inventive evening of contemporary guitar music.
 
DIEGO FIGUEIREDO
Diego Figueiredo (pronounced fig-a-reed-o) is considered one of the most talented guitar players in the world today. He is the winner of several important competitions including the Montreux Jazz Competition and the VISA Prize. Diego has released over nineteen albums to date, three DVD's, and several instructional books. His music is a fusion between Jazz, Bossa Nova and Classical. Diego's unique interpretations, along with his phenomenal technique and emotion, has created an explosion of adoring fans and concert goers. Diego has performed in over forty countries around the world.
 
Diego Figueiredo was born in Franca, Brazil in 1980. At the age of four he used to strike poses carrying his small guitar. At six, he received a mandolin, which was kept in a very special place in his house. Diego played many instruments before choosing the electric guitar when he was twelve. By the age of fifteen, he was playing theaters and nightclubs throughout Brazil, playing both solo and with many renowned Brazilian musicians. For a number of years he played in several different groups including Banda Gênese and Squema Seis from Brasília. He has studied classical guitar, Brazilian popular music and jazz in several different conservatories including Franca, Ribeirão Preto, Tatuí, and Berklee College of Music. Most recently he accompanies the singer and songwriter Belchior in tours around Brazil and abroad, as well as with the French phenom Cyrille Aimée. He has played and shared the stage with Hermeto Pascoal, Larry Coryell, Geraldo Azevedo, Sebastião Tapajós, Demônios da Garoa, Vanusa, Renato Borghetti, Osvaldo Montenegro, Jair Rodrigues, Elomar, Toquinho, Tunai, Paulinho da Viola, Nando Cordel, Moraes Moreira, Fafá de Belém, Amelinha, Los Hermanos, Zeca Baleiro, Miyazawa and others. Besides being a guitar player, Diego is a producer, arranger, orchestrator, multi-instrumentalist and has recently produced and arranged the double album "As várias caras de Drummond" for which Belchior wrote the music for Drummond´s poems, and which was released in CARAS magazine. With a variety of works already released, Diego is doing shows on the most important stages around the world enchanting and charming the public wherever he goesw ith his unique touch.
ANDREW YORK
Andrew York is one of today's most visible and innovative classical guitar composers, winning a GRAMMY with the Los Angeles Guitar Quartet during their sixteen-year partnership. Andrew's discography includes "California Breeze," a recording for Sony Japan, three solo CD's for the GSP label, ten CD's with the LAGQ on Delos, Sony and Telarc labels, as well as inclusion on Rhino Records "Legends of Guitar" and numerous other compilations. In film, Andrew shares the stage with artists Eric Johnson, Albert Lee, Doc Watson, and Mason Williams in the documentary "Primal Twang," written and hosted by eminent musician and storyteller Dan Crary.
For the last decade, Andrew's concert touring schedule has spanned more than thirty countries. Recent concerts include Bogotá Columbia, Ankara Turkey,
Czech Republic and Andrew's eleventh tour of Japan. In 2006 Andrew recorded and performed with the Atlanta symphony for the opera "Ainadamar" by Osvaldo Golijov. The recording of "Ainadamar" (Deutsche Gramophone) won two GRAMMY awards. York's compositions have been recorded by guitar luminaries John Williams and Christopher Parkening, and Japanese pianist Mitsouko Kado. As a published composer, York's works appear in print worldwide through Alfred Publications, Hal Leonard, Mel Bay Publications, Guitar Solo Publications, Doberman-Yppan in Canada, Ricordi in London, and Gendai in Japan. Besides his classical performance and compositional accomplishments, Andrew also has an extensive background as a jazz guitarist, studying with jazz legends Joe Diorio and Lenny Breau. As a classical musician, Andrew received a grant from the Del Amo Foundation for Study in Spain. Andrew received his Master of Music degree from University of Southern California, and is the only USC graduate in the school's history to twice receive the Outstanding Alumni of the Year Award – in 1997 as a member of LAGQ and in 2003 as the sole recipient.
MANELI JAMAL
Acoustic guitarist and composer Maneli Jamal has lived in five different countries (Iran, Belarus, Germany, USA, Canada) and moved twenty times by the time he was 18. The young artist gained a sense of musical maturity rarely seen among his peers especially when he transformed his nomadic life experiences into musical movements using extended guitar techniques. There aren't many players in his style that have Jamal's balance of power and sensitivity, nor his breadth of ideas. His rhythmic concepts can be alternately short and dense, or explored carefully through several movements. He has won countless music competitions around the world including placing in the top 3 at Guitar Idol, a worldwide guitar competition held in London, UK. Having been brought up in a purely artistic and musical family has contributed to shape his unique story-telling approach. He has toured all over the world including tours in Canada, New Zealand, Australia, Mexico, Europe and Africa.
Awards & Accomplishments:
1st place - 2014 Harbourfront Centre's Soundclash Music Awards (Canada) 2nd
Place - 2014 Lee Ritenour's Six String Theory Competition - Acoustic Guitar Category (worldwide) 1st place - 2013 Best Guitarist Award for Indie Week Festival (Canada) 1st place - 2013 Beaches International Jazz Festival Hennessy Contest (Canada) 1st Place - 2012 "Awakening" Best Recording AES Convention by Pouya Hamidi (worldwide) 1st Place - 2012 Winterfolk Festival Auditions 1st Place - 2011 Winterfolk Festival Auditions 3rd Place - 2011 Guitar Idol III held in London, UK (worldwide) 1st Place - 2010 Taylor Acoustic Guitars Showdown (worldwide) 1st Place - 2009 Faith Acoustic Guitars Competition (worldwide)
BRIAN GORE
San Francisco guitar poet Brian Gore is gaining a reputation as one of the most
interesting and influential performers of "the next generation" in fingerstyle guitar. A musical romantic, his compositions draw inspiration from myth and modern literature. Hailed as having "...one of the most unique new acoustic guitar styles on the scene today (News and Review)," his lyrical, understated compositions integrate classical and percussive techniques that display what the Los Angeles Times calls "a characterful bounce and spaciousness all his own."
Gore's style of playing offers strikingly beautiful tone and dynamics-- qualities that are often hard to find in steel string players. His melodic, evocative songs rely heavily on the use of open tunings, extending the "stream of consciousness" style of guitar composing he grew up with in Northern California. "Music started out as a kind of therapy for me," says Gore. "Consequently, I am a very emotional player. Now, my style of playing has also become a well honed craft. I am very grateful I can share this with people."
His buoyant personality and odd sense of humor help add lightness to his shows. "By the time I'm done with a performance," explains Gore, "people really know the meaning of the term 'extroverted introvert'." While Gore integrates some of the flashier percussive techniques into his pieces, the poetic quality of his music is preserved. "Because my music is simple and somewhat rootsy, it's easy to relate to, which is something I'm thankful for. Also, it helps keep me grounded." Gore's recent CD + postcard release is called "Santa Cruz in Song and Image." He is currently expanding upon his work with illustrator Bill Russell on an online series of videos and original songs plus multimedia show called "Wine Country: A Pairing of Music and Art." He has two additional solo releases, including "Legacy" an  "Path of Least Resistance."
Brian founded The International Guitar Night in 1995 as a forum for the world's finest guitarists/composers to play their latest original songs and share musical ideas with their peers in public concert. This has evolved into critically acclaimed annual tours in the US (starting in 2000), Canada (starting in 2006) and the UK (starting in 2007), a CD on Favored Nations Records released in 2004, a guitar instruction book published in 2005, and IGN releases on Warner Music Canada (the 6th annual CD will be released in 2011).
"Brian Gore's strong, well developed melodies and intriguing chord sequences set him apart from the myriad of steel-string fingerstylists who compose in open tunings. His finely crafted poetic "songs without words" take the listener on a spellbinding emotional ride." --Ron Forbes Roberts, Acoustic Guitar Magazine
"An artist of the highest caliber."
--Ray Toumey, the Boulder Chautauqua