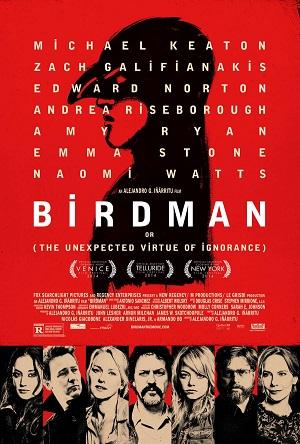 Saturday, Dec 20, 7:30 pm
We are thrilled to be screening Birdman this weekend following its 7 Golden Globe nominations last week.
 
Birdman or The Unexpected Virtue Of Ignorance, is a black comedy that tells the story of an actor (Michael Keaton)—famous for portraying an iconic superhero—struggles to mount a Broadway play. In the days leading up to opening night, he battles his ego and attempts to recover his family, his career, and himself.
 
Director:  Alejandro González Iñárritu
 
Starring: Michael Keaton, Amy Ryan, Andrea Riseborough, Edward Norton, Emma Stone, Naomi Watts, Zach Galifianakis
 
What the critics are saying:
 
Certified Fresh
Rotten Tomatoes
 
"A thrilling leap forward for director Alejandro González Iñárritu, Birdman is an ambitious technical showcase powered by a layered story and outstanding performances from Michael Keaton and Edward Norton."
San Francisco Chronicle
Michael La Salle
This is a remarkable feat, not only of cinematography, but of choreography. Just to film Michael Keaton and Edward Norton walking down a Manhattan street, everything had to be timed as in a dance — when the camera swirls ahead, when it goes behind, when it swoops back around. It's all accomplished so smoothly that it would be worth doing merely as a stunt, except this is no stunt. This method carries the mood and soul of one of the best movies of 2014.
New Orleans Times-Picayune
Mike Scott
 
From the first line of its deep, rapid-fire dialog all the way through to its trippy ending -- which is guaranteed prompt discussion on the drive home -- Inarritu has crafted a film that begs to be rewatched, with the promise of each repeated viewing bringing something new.
 
Chicago Sun-Times
Richard Roeper
This is a strange and beautiful and unique film, one of the best movies of the year.
 
Admission Prices*:
 
General: $10.00
Seniors, Students and Active Military: $9.00
Members: $8.00
Children 12 and under: $7.00
Sunday Bargain Prices:
 
General: $8.00
Members: $6.00
Children 12 and under: $5.00
Add $2.00 to the above prices for 3D screenings
.
Your membership with the Lincoln Theatre saves you $2.00 per film ticket.
 
*All prices include a $1.50 Preservation Fee that goes directly into our capital account for preservation of the Lincoln Theatre and its programs. Film tickets are only available at the door beginning 45 minutes before the first screening of the day. This saves you, the ticket buyer the fees associated with purchasing online. Never fear – there are plenty of seats!
 
Monday film screenings are part of the Lincoln Theatre Member Mondays! Click here for details.
 
Film dates and times are subject to change and extended runs. Please check back here, or our phone message at 360.336.8955, day of show.