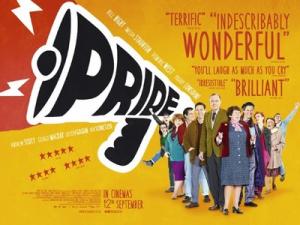 Saturday, Nov 15, 7:30 pm
It's the summer of 1984. Margaret Thatcher is in power and the National Union of Mineworkers is on strike, prompting a London-based group of gay and lesbian activists to raise money to support the strikers' families. Initially rebuffed by the Union, the group identifies a tiny mining village in Wales and sets off to make their donation in person. As the strike drags on, the two groups discover that standing together makes for the strongest union of all.
Director:  Matthew Warchus
 
Starring: Bill Nighy, Dominic West, Imelda Staunton, Paddy Considine
 
What the critics are saying:
 
Certified Fresh
Rotten Tomatoes
 
Earnest without being didactic and uplifting without stooping to sentimentality, Pride is a joyous crowd-pleaser that genuinely works
 
San Francisco Chronicle
Michael Ordona
Quite simply, one of the best movies of the year so far.
 
New York Magazine (Vulture)
David Edelstein
 
What a cast Pride has — some of the best famous actors in Britain and lesser-known younger ones that will (soon) take their place in the firmament.
 
Chicago Sun-Times
Bill Zwecker
This film moves effortlessly from some pretty intense dramatic moments to hilarious scenes showcasing the contrasting lifestyles of the gay and straight worlds to some vignettes of incredible poignancy.
Admission Prices*:
General: $10.00
Seniors, Students and Active Military: $9.00
Members: $8.00
Children 12 and under: $7.00
     Sunday 5:30pm Bargain Prices:
General: $8.00
Members: $6.00
Children 12 and under: $5.00
Add $2.00 to the above prices for 3D screenings.
 
Your membership with the Lincoln Theatre saves you $2.00 per film ticket.
 
*All prices include a $1.50 Preservation Fee that goes directly into our capital account for preservation of the Lincoln Theatre and its programs. Film tickets are only available at the door beginning 45 minutes before the first screening of the day. This saves you, the ticket buyer the fees associated with purchasing online. Never fear – there are plenty of seats!
 
Monday film screenings are part of the Lincoln Theatre Member Mondays! Click here for details.
 
Film dates and times are subject to change and extended runs. Please check back here, or our phone message at 360.336.8955, day of show.