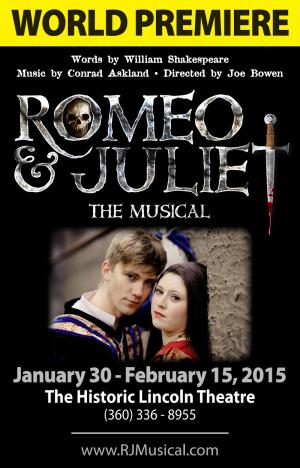 Friday, January 30, 2015 - 7:30pm
Saturday, January 31, 2015 - 7:30pm
Thursday, February 5, 2015 - 7:30pm
Friday, February 6, 2015 - 7:30pm
Saturday, February 7, 2015 - 7:30pm
Thursday, February 12, 2015 - 7:30pm
Friday, February 13, 2015 - 7:30pm
Saturday, February 14, 2015 - 7:30pm
Sunday, February 15, 2015 - 2:00pm
SPECIALS: January 31 is bargain night - all seats $10 at-the-door festival seating beginning 2 hours before curtain. Thursday, February 5 is Beer Night, included in ticket price are two tickets for beer (21 and over) or cider.
Advance reserved seating tickets: $22 1st section: $19 2nd section; $16 3rd section; $10 4th section.
William Shakespeare's epic tale of love and tragedy comes alive as you've never seen it before!
A world premiere musical with 30+ cast and live orchestra. Set to the original words of William Shakespeare
with music composed, orchestrated and conducted by 

music director Conrad Askland

 (music director for Rock of Ages and international dance hit Burn the Floor with NCL New York, former music director for Cirque Du Soleil and composer of the musicals "Witches!" and "PAN"). Directed by Joe Bowen and presented by META Performing Arts.