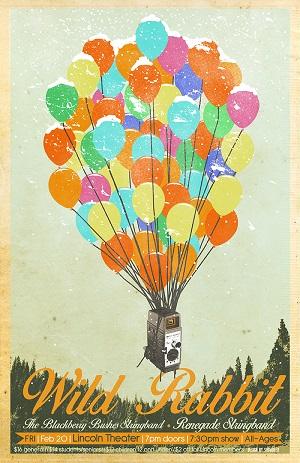 Friday, February 20, 2015 - 7:30pm
$16 adults: $14 seniors & students: $12 for children 12 and under with $2 off for Lincoln Theatre members.
An evening of  Folk Stomp Americana from Wild Rabbit, The Blackberry Bushes, and Renegade Stringband presented by the Lincoln Theatre and the Mount Vernon Downtown Association. This evening promises to be a warm winter night of celebratory music as we welcome the return of Skagit Valley's prodigal sons (and daughters) formally known as Br'er Rabbit.
Though all four members of Wild Rabbit grew up running around wooded areas of the same small town in the farthest Northwest corner of Washington state, brothers Zach and Nathan didn't meet Miranda, the third founding member, until they had all ended up in New York City. This kind of backyard folk seasoned by the edge, polish and fervor of big-city inclinations is at the root of the style they call folk-stomp Americana.
The group revamps classic string band instrumentation with homespun percussion and the unique integration of six-string ukulele and cello. With their widely varying influences, three distinct vocal styles and copious amounts of foot-stomping, they demonstrate a sound and presence that's at once original and familiar, appealing to audiences of all generations and genres. Voted best band in their home city of Bellingham, WA for the past two years, they have quickly risen to local notoriety and now tour extensively throughout the U.S.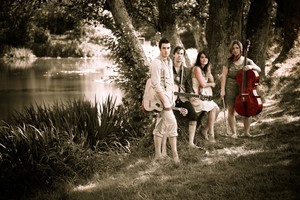 The Appalachian Mountains are the oldest mountains in the world, and the Mississippi River is the most musical river ever known. Jes Raymond and Jakob Breitbach may have met in the rainy bottom of the Puget Sound, but their music is vibrantly infused with the essence of the homes they wandered west from. The Blackberry Bushes draw from these deep roots of American traditional music to create a playful and resonant sound with both twang and sophistication.  Joyful singing and enchanting songwriting are supported by carefully constructed soundscapes that feature virtuosic fiddle. Joined by Daniel Ullom on mandolin and Forrest Marowitz on the upright bass, they are a fresh exclamation of new Bluegrass and Americana. The Blackberry Bushes Stringband has that rare magic that allows them to artfully fuse sounds from many genres into a string instrumentation that retains distinct threads of sonic color. This is a daredevil sound that is delicate, bold, and like their thorny namesake, rooted and growing, growing, growing.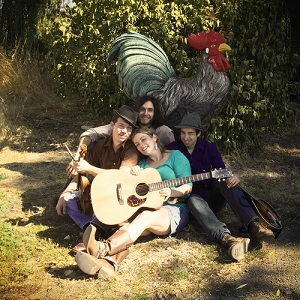 Renegade Stringband plays hard driving bluegrass on stages and in the streets. Their repertoire runs the gamut from original ballads to covers of songs by the Black Keys, Woody Guthrie, Tom Waits, and Ella Fitzgerald. From their base in Portland, Oregon, the band has been touring the west coast since 2010. In summer of 2012 they made their first pilgrimage to the birthplace of bluegrass, delighting audiences at the ROMP Festival in Owensboro, Kentucky. The Seattle Observer has described how the band "trades instrumental solos like a jazz sextet." They continue to enjoy and explore the ability of music to draw communities together, and express that which can only be reflected in song. Whether performing school concerts, on tall masted ships, or on your local street corner, Renegade Stringband delivers the same signature sound. Their reverence for tradition anchors their musical innovations, allowing them to join with audiences in a stomping and hollering celebration.