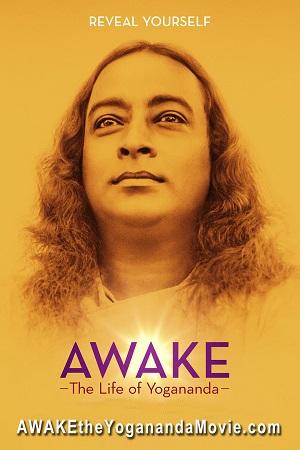 Saturday, Jan 24, 7:30 pm
AWAKE: The Life of Yogananda is an unconventional biography about an Indian Swami who brought yoga and meditation to the West in the 1920s. This feature documentary explores the life and teachings of Paramahansa Yogananda, who authored the spiritual classic Autobiography of a Yogi, which has sold millions of copies worldwide and is a go-to book for seekers, philosophers and yoga enthusiasts today. It was the only book that Steve Jobs had on his iPad, and he arranged to give away 800 copies of it  to the dignitaries who attended his memorial service. It was also a point of entry into Eastern mysticism for George Harrison, Russell Simmons and countless yogis. By personalizing his own quest for enlightenment and sharing his struggles along the path, Yogananda made ancient teachings accessible to a modern audience, attracting many followers and ultimately helping millions of seekers today to turn their attention inwards, bucking the temptations of the material world in pursuit of self-realization.
 
Director: Lisa Leeman and Paola di Florio
 
What the critics are saying:
San Francisco Chronicle
David Lewis
This is a film that works both for followers and for those interested in knowing what yoga is truly about. Hint: It's not about six-pack abs.
Los Angeles Times
Michael Rechtshaffen
 
Fittingly enlightening, "Awake: The Life of Yogananda" is a vivid, elegantly assembled portrait of the savvy guru with the cherubic face and penetrating gaze who brought meditation to the West.
Admission Prices*:
General: $10.00
Seniors, Students and Active Military: $9.00
Members: $8.00
Children 12 and under: $7.00
Sunday Bargain Prices
General: $8.00
Members: $6.00
Children 12 and under: $5.00
Add $2.00 to the above prices for 3D screenings.
Your membership with the Lincoln Theatre saves you $2.00 per film ticket.
*All prices include a $1.50 Preservation Fee that goes directly into our capital account for preservation of the Lincoln Theatre and its programs. Film tickets are only available at the door beginning 45 minutes before the first screening of the day. This saves you, the ticket buyer the fees associated with purchasing online. Never fear – there are plenty of seats!
 
Monday film screenings are part of the Lincoln Theatre Member Mondays! Click here for details.
 
Film dates and times are subject to change and extended runs. Please check back here, or our phone message at 360.336.8955, day of show. http://www.lincolntheatre.org/benefits-membership