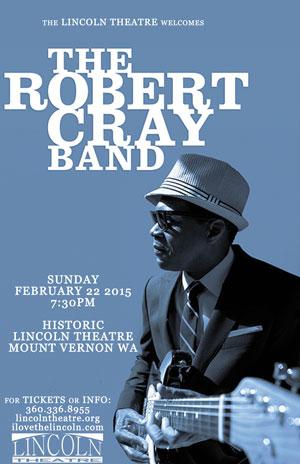 Sunday, February 22, 2015 - 7:30pm
Advance reserved seating tickets: $49.50 1st Section; $39.50 2nd Section; $29.50 3rd Section.
We are very excited to present The Robert Cray Band in a SOLD-OUT performance this Sunday evening. Thank You!
 
With 5 Grammy Awards, 15 nominations, millions of record sales worldwide, and thousands of sold out performances, rock blues icon Robert Cray is considered "one of the greatest guitarists of his generation." Rolling Stone Magazine in their April 2011 issue credits Cray with reinventing the blues with his "distinct razor sharp guitar playing" that "introduced a new generation of mainstream rock fans to the language and form of the blues" with the release of his Strong Persuader album in 1986.
Since then, Cray has gone on to record sixteen Billboard charting studio albums and has written or performed with everyone from Eric Clapton to Stevie Ray Vaughan, from Bonnie Raitt to John Lee Hooker.
 Inducted into the Blues Hall of Fame in 2011 at the age of 57, he is one of the youngest living legends to receive the prestigious honor. And while he can look back over an astonishing four-decade career punctuated by his trademark sound and distinct playing style, Robert Cray is too busy moving forward on an amazing journey that has him releasing his seventeenth studio album IN MY SOUL on April 1, 2014 and embarking on yet another world tour with the Robert Cray Band.
 
As ever with Robert Cray's undefinable sound, his music remains stubbornly beyond category. Although blues is the foundation, his music is a melting pot of traditional American rock, soul, jazz, gospel, funk and R&B. "When I first started playing guitar, I wanted to be George Harrison – that is, until I heard Jimi Hendrix. After that, I wanted to be Albert Collins and Buddy Guy and B.B. King. And then there are singers like O.V. Wright and Bobby Blue Bland. It's all mixed up in there. You just never know. I always attribute it to the music we grew up listening to and the radio back in the '60s. It's pretty wide open. It's hard to put a tag on it."
 
The band includes Cray (vocals/guitar), original bandmate and longtime childhood friend Richard Cousins on bass. Richard played with The Robert Cray Band from 1979-1991 and rejoined the band in 2007. Les Falconer, who Cray has known and admired through the years and joined in early 2013 on drums; and Dover Weinberg who played with the band from 1974-1979, back on piano/keyboards.
 
Please join us in giving The Robert Cray Band a huge Skagit Valley welcome!