Wednesday, May 9, 7:30 pm
Saturday, May 12, 7:30 pm
Thursday, May 17, 7:30 pm
Saturday, May 19, 7:30 pm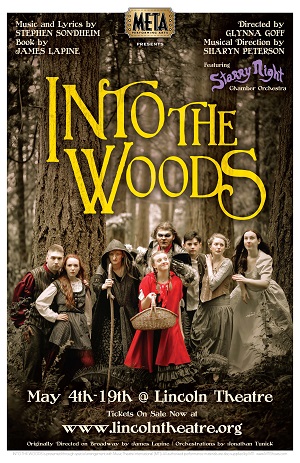 $25-1st tier, $20-2nd tier, $12-3rd tier + applicable fees. Wednesday, May 9th is Bargain Night. All seats 50% off.
A Tony Award®-winning musical classic by Stephen Sondheim & James Lapine
Into the Woods reacquaints us with the most enchanting Brother's Grimm folklore, and characters that we not only adored in our youth, but also continue to pass on to our children today. Joining Cinderella, Jack and the Beanstalk, Rapunzel and, of course, Little Red Riding Hood, is a childless Baker and his Wife. Of course, no fairy story would be complete without a Witch! 
These familiar tales are retold through a sophisticated, witty, and beguiling storyline with a musical score so dazzling, and full of dark comedic verse so clever, that many critics have hailed Into the Woods as "one of the few masterpieces of our time". Better still is that none of the important cautionary lessons about life's physical and moral hazards from the original Grimm's stories are lessened by this modern recounting of classic "happily ever after" fables. And that's only the first act!