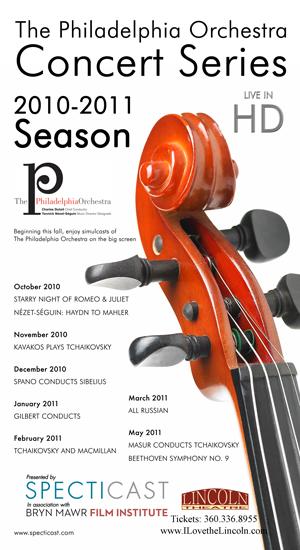 Tickets: $17 General, $7 Students, $2 off for Lincoln Theatre Members
We have added the Philadelphia Orchestra Concert Series to our ever expanding group of great live HD broadcasts that includes the Metropolitan Opera and National Theatre of London series.
 
Theaters across North America now have access to never before available concert events from the world-renowned Philadelphia Orchestra. SpectiCast in association with Bryn Mawr Film Institute is making this new experience in cultural events available to exhibitors providing us the opportunity to showcase beautifully produced and directed live simulcasts and encore performances of The Philadelphia Orchestra. You will feel as if you are right on the stage even as you sit in the comfort and convenience of the Historic Lincoln Theatre enveloped in our dolby surround sound.