Wurlitzer
Wurlitzer magic keeps tradition alive
Of the 98 Wurlitzer organs remaining in their original theaters in the U.S., the Lincoln Theatre's Wurlitzer is one of only two 2-manual, 7-rank D-2 Full Unit Orchestra models. The Lincoln Wulitzer features seven ranks of pipes, an original Wurlitzer remote piano, and a complete sound effect system for silent films, including beats, castanets, drums, cymbals, glockenspiels, and marimbas, as well as a set of silver chimes mounted on the auditorium's painted columns. A portable console is used when the main console is covered by the stage extension. This is on a long cable and controls the same pipes as the original console.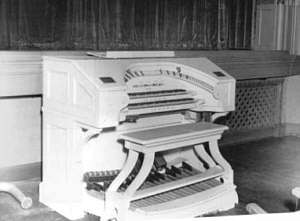 Much work has been done by our pool of volunteer organists and technicians to maintain and repair our musical treasure. The console has been pulled, cleaned, and rewired; several ranks have been gone through, with new leathers and blocks installed; and the "toy box" for sound effects has been rearranged for easier access and repair. All the work has been done by dedicated volunteers, including Gene Peden, Bob Martin, Keith Thompson and Fred Beeks.
Hear the Mighty Wurlitzer before the most film. Call the Ticket Office for more information.
The volunteer organists who perform before each film showing are Fred Beeks, Ruth Ann Burley, & Glen DesJardins. Thanks to all of them for keeping the theater organ tradition alive at the Lincoln!
We are always in need of more players. If you are interested in performing at the console, give us a call and you can play the pipes!
Hear our Mighty Wurlitzer played by former volunteer Trevor Slocum here: http://www.youtube.com/watch?v=U8NmqUUGBXM
More on the history of the Lincoln and the pipe organ: Puget Sound Theater Organ Society Wurlitzer Link: The Theatre Organ Home Page