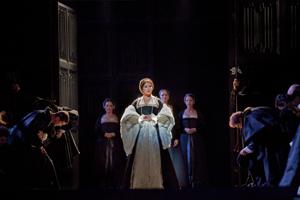 Wednesday, Jun 13, 6:30 pm
Estimated running time: 3 hours, 10 minutes
Donizetti's ANNA BOLENA
 
Anna Netrebko opened the Met's 2011-12 season with her portrayal of the ill-fated queen driven insane by her unfaithful king, singing one of opera's greatest mad scenes. David McVicar's Met premiere production also stars Ekaterina Gubanova as her rival, Jane Seymour, and Ildar Abdrazakov as Henry VIII. Marco Armiliato conducts.
 
 
Production: David McVicar
 
 
Conductor: Marco Armiliato
 
 
Cast: Anna Netrebko, Ekaterina Gubanova, Tamara Mumford, Stephen Costello, Ildar Abdrazakov
 
 
Original transmission: October 15, 2011
 
Tickets: $15 general, $13 seniors, $11 students and children w/ $2 member discount. 6 tickets for the price of 5 bundle available.