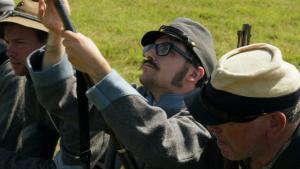 Running Time: 1 hour 20 minutes
Premiere of the new comedy from ZN Productions.
Directors and actors in attendance at the Friday night premeire.
In the vein of Christopher Guest's great mockumentarys (Best in Show, Waiting for Guffman) comes the new collaboration from the Hamer Brothers, Re-enactors:
Jed Hankley lives to relive. From civil war battles to old western shootouts, Jed stops at nothing to create the most "historical" re-enactments. When Jed is offered his dream job, a temp tour-guide at the Milltown Pioneer Village, he must set aside his differences with his old rival, Douglas Marshall-Pickett, to create the most "authentic" experience possible. But will Jed and Doug's hardcore re-enacting standards clash with the cushy lifestyle of the Pioneer Village campers? For Jed and Doug the summer has now become 1866; for the campers, it's become a living nightmare. 
Special Screening Admission Prices*:

General: $9.00
Seniors, Students and Active Military: $8.00
Members: $7.00
Children 12 and under: $6.00
 
Your membership with the Lincoln Theatre saves you $2.00 per film ticket.
 
*All prices include a 50¢ Preservation Fee that goes directly into our capital account for films.
 
Monday film screenings are part of the Lincoln Theatre Member Mondays! Click here for details.
 
Film dates and times are subject to change and extended runs. Please check here, or our phone message at 360.336.8955, day of show.