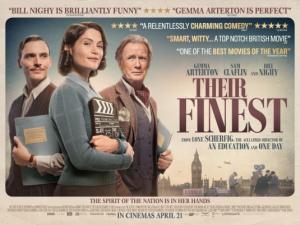 Saturday, May 13, 7:30 pm
With London emptied of its men now fighting at the Front, Catrin Cole (Gemma Arterton) is hired by the British Ministry as a "slop" scriptwriter charged with bringing "a woman's touch" to morale-boosting propaganda films. Her natural flair quickly gets her noticed by dashing movie producer Buckley (Sam Claflin) whose path would never have crossed hers in peacetime. As bombs are dropping all around them, Catrin, Buckley and a colorful crew work furiously to make a film that will warm the hearts of the nation. Although Catrin's artist husband looks down on her job, she quickly discovers there is as much camaraderie, laughter and passion behind the camera as there is onscreen.
Directed by: Lone Scherfig
Cast: Gemma Arterton, Bill Nighy, Sam Claflin, Jack Huston, Jake Lacy, and Richard E. Grant
New York Observer, Rex Reed
Beautifully cast, intelligently written and a gorgeously assembled range of beautifully gauged emotions about movies and war, Their Finest is one of the best films of a still-young 2017. 
The Playlist, Noel Murray
The charming, rousing WWII romance Their Finest is a film that openly stumps for two causes: the value of women in the workplace, and the power of cinema to tell stories that people need to hear.
Boston Globe, Peter Keough
At its best, which is often, Their Finest by Danish director Lone Scherfig ("Italian for Beginners;" "An Education") manipulates appearance and reality, relief and recognition, with exquisite finesse. As befits a film about making films.
Austin Chronicle, Marjorie Baumgarten
Their Finest may ultimately be the best words to describe the amalgamated work of all participants in this film.
Film Prices:
General: $10.00
Seniors, Students and Active Military: $9.00
Members: $8.00
Children 12 and under: $7.00
Sunday Bargain Prices:
General: $8.00
Members: $6.00
Children 12 and under: $7.00
Add $2.00 to the above prices for 3D screen
Your membership with the Lincoln Theatre saves you $2.00 per film ticket.
*All prices include a $1.50 Preservation Fee that goes directly into our capital account for preservation of the Lincoln Theatre and its programs. Film tickets are only available at the door beginning 45 minutes before the first screening of the day. This saves you, the ticket buyer the fees associated with purchasing online. Never fear – there are plenty of seats!
 
Members have benefits: Click here http://www.lincolntheatre.org/benefits-membership for details.
 
Film dates and times are subject to change and extended runs. Please check back here, or our phone message at 360.336.8955, day of show.