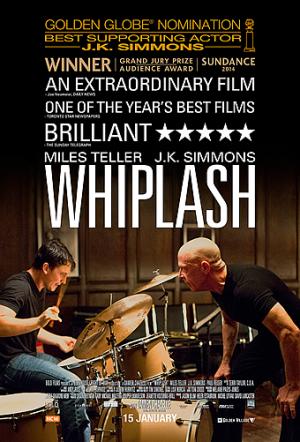 Whiplash, featuring a larger-than-life, Oscar winning performance by J.K. Simmons, is a riviting film that deserves to be seen on the big screen..
 
Andrew Neyman is an ambitious young jazz drummer, single-minded in his pursuit to rise to the top of his elite east coast music conservatory. Plagued by the failed writing career of his father, Andrew hungers day and night to become one of the greats. Terence Fletcher, an instructor equally known for his teaching talents as for his terrifying methods, leads the top jazz ensemble in the school. Fletcher discovers Andrew and transfers the aspiring drummer into his band, forever changing the young  man's life. Andrew's passion to achieve perfection quickly spirals into obsession, as his ruthless teacher continues to push him to the brink of both his ability-and his sanity.
 
Director: Damien Chazelle
Starring: J.K. Simmons, Miles Teller, Melissa Benoist and Paul Reiser
 
What the critics are saying:
Certified Fresh on Rotten Tomatoes
"Intense, inspiring, and well-acted, Whiplash is a brilliant sophomore effort from director Damien Chazelle and a riveting vehicle for stars J.K. Simmons and Miles Teller."
New Orleans Times-Picayune
Mike Scott
Teller plays notes all over the emotional chart, dovetailing into a divine riff on ambition. And he does nearly all of Andrew's drumming, aggressively and impressively so.
RogerEbert.com
Brian Tallerico
Whiplash is cinematic adrenalin. In an era when so many films feel more refined by focus groups or marketing managers, it is a deeply personal and vibrantly alive drama.
Entertainment Weekly
Chris Nashawaty
If you can appreciate the sight of two totally dialed-in performers simmering until they boil over, that's enough. And P.S., that's pretty much the definition of jazz.
Admission Prices*:
General: $10.00
Seniors, Students and Active Military: $9.00
Members: $8.00
Children 12 and under: $7.00
Sunday Bargain Prices
General: $8.00
Members: $6.00
Children 12 and under: $5.00
Add $2.00 to the above prices for 3D screenings.
 
Your membership with the Lincoln Theatre saves you $2.00 per film ticket.
*All prices include a $1.50 Preservation Fee that goes directly into our capital account for preservation of the Lincoln Theatre and its programs. Film tickets are only available at the door beginning 45 minutes before the first screening of the day. This saves you, the ticket buyer the fees associated with purchasing online. Never fear – there are plenty of seats!
 
Monday film screenings are part of the Lincoln Theatre Member Mondays! Click here for details.
 
Film dates and times are subject to change and extended runs. Please check back here, or our phone message at 360.336.8955, day of show.